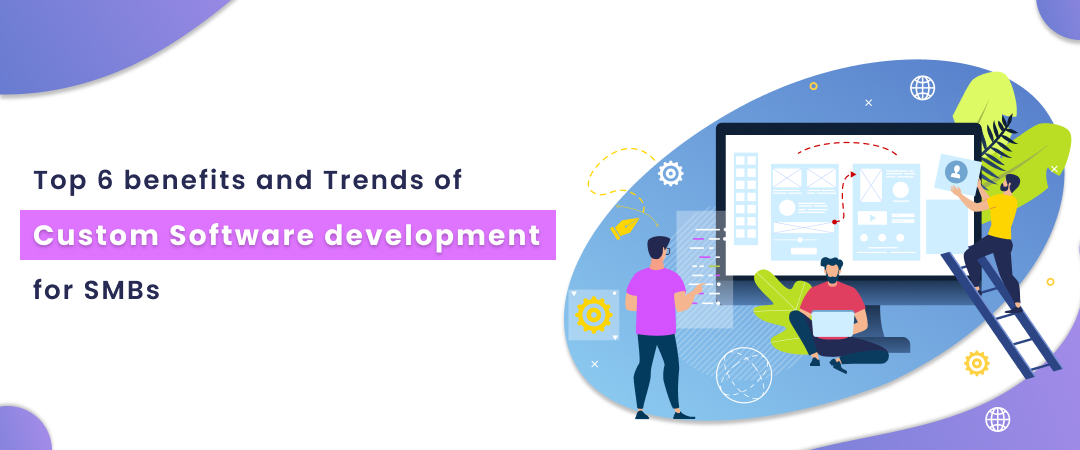 What are the notable custom software development trends to watch?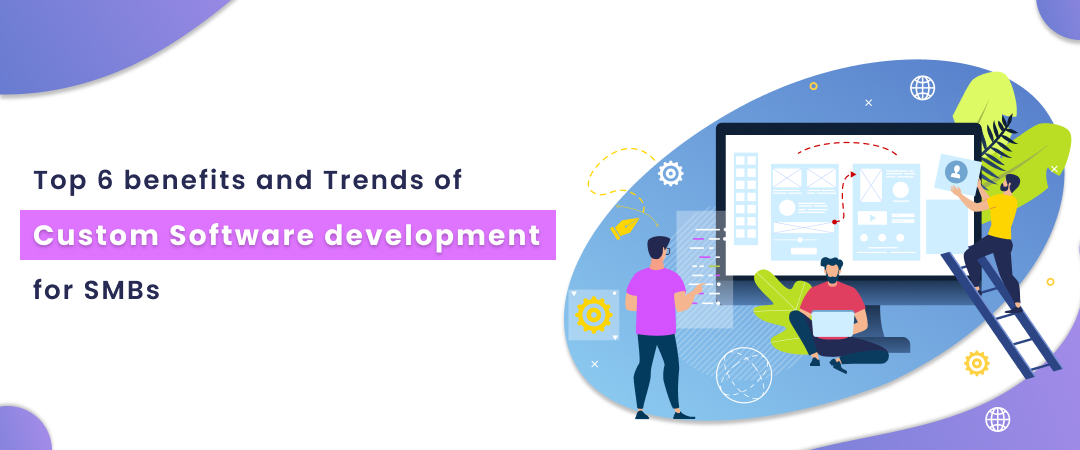 What is custom software?
Commercial Off the Shelf (COTS) is ready-to-use software with in-built features. The vendor developing and launching the product is responsible for updating its features intermittently. The buyer gets access to its updated version in return for paying license fees through subscription. For instance, Bill Gates became a household name by launching Microsoft Windows.
On the other side of the spectrum, a firm is either using its team's expertise or requesting a third-party vendor to customize the software to suit their specs. It is called 'Custom Software' or 'bespoke software'. Before plunging into the untested waters, the customer weighs all its features relevant to their business model. Full-fledged planning goes underway from inputs received by team members, IT, management, and vendor before executing the blueprint. E.g., A firm developing applications for monitoring their employees' attendance. The relevant updates taken ages through the COTS were accomplished within a specified time through custom software.
Now that we know the difference between COTS and CS let us discuss the benefits of custom software.
How does it benefit having custom software?
A. Freedom to choose the developer
Custom design software gives the buyer the Freedom to act on their requirements. Off-the-shelf software designed and upgraded, keeping in mind user reviews and trends. The users pursue paying the subscription fees to keep the license active. In rare instances, there is a possibility of the vendor ceasing its operations then your entire IT operations functionality comes to a standstill.
B. Freedom to create white-label products
The resources you utilize for creating the software can be licensed to another vendor new to the business. A white-label product is one you sell through a single payment. The buyer has conferred the right to use it under their brand name. Though it is not a long-run solution, it monetizes the seller and benefits the buyer.
C. Freedom to create white-label products
Investing in Off-the-shelf software does not guarantee instant integration into your system. Firms incur additional expenditure towards program extensions for seamless functioning. Funds channelized for building custom software help resolve integration and glitches without aggression.
D. Freedom of Data security
B2B and B2C firms deal with a significant concern on data security. Many have migrated to cloud computing, yet there is a sizeable percentage whose data is available in the system or their servers. Supporting high-end security protocols is an added cost eventually billed through customer service.
With your custom software development, choosing the data security technology appropriate for your business remains in your hands.
E. Freedom of cost optimization
Firms automate business processes that are repetitive and time-consuming in nature. Through custom development, the heavy initial investment is curtailed. Project planning and execution are done through stages, depending on the available resources and performance. The flaws in single-process automation get addressed without much fanfare and make long-run automation affordable.
F. Freedom of adaptability & scalability
Innovations and new processes enter the business arena time and again. Therefore, to adjust to the market dynamics, firms adapt to stay ahead amongst their peers. The money invested in custom software development is favorable as project execution happens to keep in mind the flexibility to adjust to innovations with less tweaking. The same applies to scaling to match the demands of the market.
What are the trends to watch out for?
As developing custom software is getting more recognition, there is a mushroom growth of vendors interested in sharing their slice of the pie. For the buyer, it is an opportunity to make the best use of their investment. Their selection is based on vendors having to offer the latest trends in the market with reasonable pricing.
Let us know what trends to keep an eye on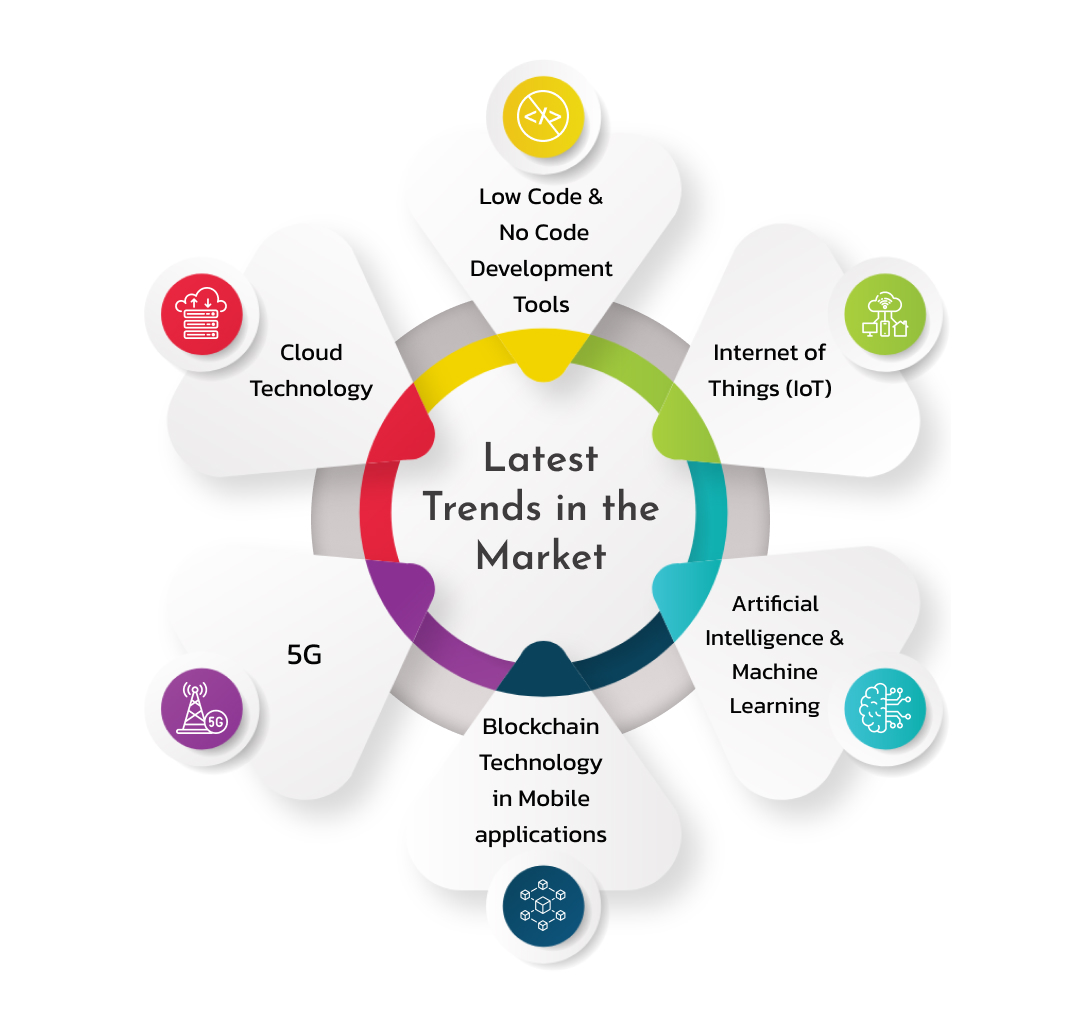 a. Low Code and No Code Development Tools
There is hype surrounding low-code or no-code development. As per Gartner 65% of software projects through low-code or no-code development will be done by 2024. In that case, the impressive figures justify the hype.
No-code platforms confidently develop software like PowerPoint or Word that are very easy to use. A small-time business firm can march forward without incurring additional overhead expenses (time & resources) to handle a development team.
Low-cost platforms still need developers to retain their coding skills. However, development gets accelerated as they work with pre-written code components.
Developers benefit greatly due to the elimination of repetitive and time-consuming codes. Their undivided attention is towards actual coding tasks. File maker is one noted example of a software development option. The global market forecast for low-code development is expected to reach US$ 59 billion by 2030 according to Acumen Research & Consulting.
b. Cloud Technology
Cloud technology is the prodigal child during the pandemic era. Big cloud service providers such as Amazon Web Service and Microsoft Azure were having their hey days. As per the market forecast by Gartner Global End-User Spending on Public Cloud Services is anticipated to exceed $480 Billion by 2022 and increase.
There is no denying its contribution in terms of infinite data storage, affordable maintenance cost and easy mobility. However, Covid accelerated its growth to stay on top of the pyramid.
A new phenomenon called 'Work from Home or 'Remote working' emerged to help employees access their software and technology tools in the comforts of their homes. According to the Flexera 2021 State of the Cloud Report, 9 out of 10 of the 750 organizations surveyed maximized Cloud computing usage during corona.
What is the nexus between cloud computing and software development? Drifting from the myth, cloud computing is only reserved for corporates; on the contrary, small firms are linking their custom software to the cloud. This gives Freedom for their team members to access data and applications and secure the confidentiality of information.
c. 5G
The modern-day requirements need an infrastructure that cannot compromise speed, network capacity & capability and frequent disruption. The much-awaited 5G network is anticipated to be a solution provider in terms of consistency, speed and efficiency.
While the network coverage has only taken toddler steps covering a meagre 30% of the global countries, there is a sign of optimism in the air of covering 3.6 billion of the populaces by 2025.
Apart from providing speed to mobile broadband, the 5G network collaboration with other technologies like Cloud networks and IoT will augment faster integration and remove hurdles, paving the way for future digital innovations.
d. Artificial Intelligence & Machine Learning
Organizations proportionate to their size generate abundant and valuable data. Estimates suggest that presently 3.5 quintillion bytes of data get created each day. This asset is used predominantly for financial analysis and decision-making. Therefore, data needs to be scientifically collected, securely stored, and sensibly utilized as it impacts even our social lives.
AI and ML have universally helped all industries automate repetitive tasks, eliminate errors & conserve man-hours. It supports critical functionality like information gathering, code generation & review, and testing of software.
Firms developing custom software can provide their clients with an accurate estimate of project costs, delivery time and resource allocation.
e. The Internet of Things (IoT)
The Internet of Things (IoT) is a technology revelation with a market valued at growing at a CAGR of 25.1% from 2017 to 2022. It invaded the spaces of millions of humans generically. The experiences shared range from controlled functioning of home appliances, remote monitoring of patients in health care, and building maintenance in real-time.
IoT has empowered industries across verticals to collect, deploy and analyze data from various sources of devices. These devices have inbuilt sensors to collect data. The accumulated data is integrated into the software shared via the cloud. The software then analyzes and transmits the data to the end user through an alert (notification, e-mail).
The technologies function in two ways. IoT data protocols transmit information between devices without an internet connection, and IoT network protocols link devices to one another and the internet.
Blockchain Technology in Mobile applications
The pandemic succeeded in curtailing human mobility but not their activities. Online payments have become indispensable for all global organizations. One such technology giant freed from the clutches of financial and banking commodity tag is 'Blockchain technology'.
It expanded its scope and entered the realm of mobile software development. We witness blockchain technology as the core security provider for mobile software. Businesses find it meaningful to embrace decentralized but incorruptible data structures to validate their products/services and customer transactions.
Closing thoughts
Innovation is a constant process, and over the years, iSQUARE has steadily satisfied its customers by guiding them to the recent trends in custom software development. With our never-ending learning arc, years of experience and collaboration with global clients, we can foresee the client's requirements.
Our solutions help clients to stay ahead of their competitors, and our consultancy is a one-stop shop for all your digital needs. Call us to let us know more.