What is Digital Transformation and How Does It Benefit the Workplace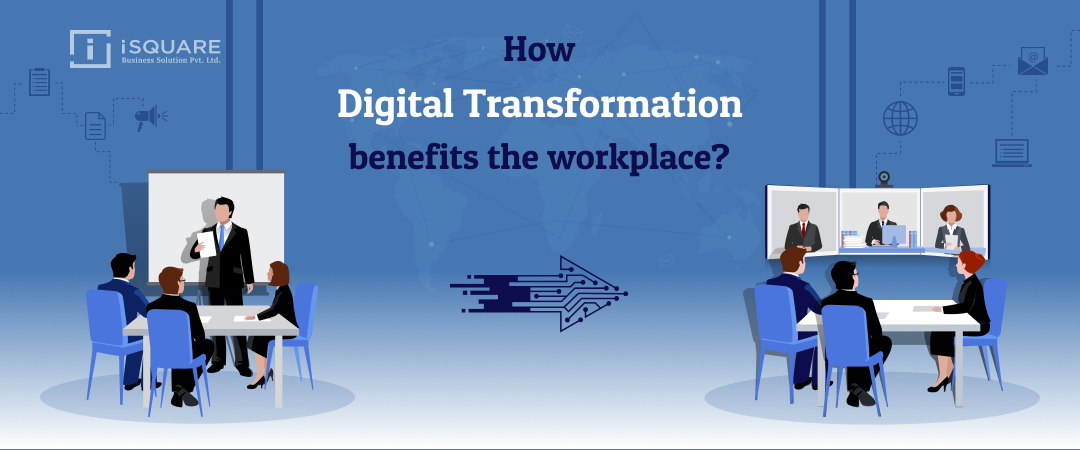 What is Digital Transformation and How Does It Benefit the Workplace
A Digital transformation is an essential component of a comprehensive business transformation strategy, and while it is not the only factor, it is critical to the transformation effort's success or failure. Digital transformation connects people, processes, and operations.
What is digital transformation?
The process of digital transformation involves the integration of digital technologies and solutions throughout an organization. This is as much a cultural evolution as a technological shift. It requires organizations to adapt how they operate as well as the way they deliver customer experiences and benefits. A digital solution will enhance the workforce and lead to business process and model transformation.
The Importance of Digital Transformation
The digitization of society started to accelerate in the late 20th century. In the first two decades of the 21st century, digitalization experienced fast acceleration, which spurred an increasing need for digital transformation across industries.
A digital transformation is crucial because disruption will always occur and competition is fierce. In every industry, digital technology is spreading, from energy to healthcare, transportation, and the media. As a result, industrial companies had to re-evaluate their work methods, workforce, and even workplace. It is proven that investing in digital transformation increases efficiency, increases revenue growth, and reduces operational costs, allowing companies to stay competitive.
The scope of digital transformation
Digital devices: The audience interacts with brands using business websites and mobile applications, typically with a combination of connected devices such as smartphones, tablets, desktop computers, TVs, and gaming systems.
Digital platforms: Most of these interactions take place using browsers or apps from the major platforms or services, such as Facebook (and Instagram), Google (and YouTube), Twitter, and LinkedIn.
Digital media: For reaching and engaging audiences, digital media offers a variety of paid, owned, and earned communication channels, such as advertising, email, messaging, search engines, and social networks.
Digital data: Businesses collect digital data from their audience profiles and interactions with businesses, which is now protected by law in the majority of countries.
Learn more about Digital Transformation for Small Medium Businesses(SMBs) Read Here
Types of Digital Transformation
Process Transformation: The aim of process transformation is to improve efficiency and reduce costs by redefining processes.
Product and Service Transformation: Accelerate product innovation and improve service delivery.
Growth Opportunity: Expand into an emerging market area with high growth potential and an attainable market share.
Cultural Transformation: The goal is to facilitate alignment and collaboration in organizations.
Customer Experience: Improving the quality of products and/or services, and building superior customer experiences and engagement opportunities.
What is the Digital Transformation Workplace?
Digital transformation goes beyond buying the right software. Generally, in digital transformation, most people will focus on the digital part rather than the transformation.
Basically, digital transformation is improving internal communication and knowledge sharing. The aim is to increase employee engagement and improve the way your teams collaborate.
The Benefits of Digital Transformation at Work
Enhance collaboration.
In the organization, the employees should collaborate toward their shared goal. This will encourage the employee to achieve the shared objective. To accomplish this, you need to assemble teams of people with different knowledge bases and positions, foster knowledge sharing, build trust, and promote transparency.
Effective Cloud-Based Systems
Cloud-based services offer agility and economic flexibility, which will allow businesses to select services that uniquely meet their requirements. In addition, they will be able to streamline their IT and infrastructure costs.
This kind of system and office network can significantly impact how the workplace flows, and it's a crucial factor for digital transformation. It enables better monitoring and accessibility of business processes.
Values of an Empowered Company
This requires making a transition from the traditional business hierarchy and structure. Instead of that, there is a particular focus on employee engagement and empowerment. Enhanced internal communication and knowledge sharing will lead to more positive contributions from employees.
Innovation
Innovation is a key component of digital transformation. As a result of having diverse knowledge bases and enhancing internal communication, companies are more likely to come up with innovative ideas. In this way, they will be able to learn from the outcomes and adjust accordingly, which will allow them to inform wider changes across the office or company.
Continue to advance
Even though technology continues to advance along with business practices, it's important to note that there will never be an absolute endpoint. Technological innovations will require you to keep learning, adapting, and evolving.