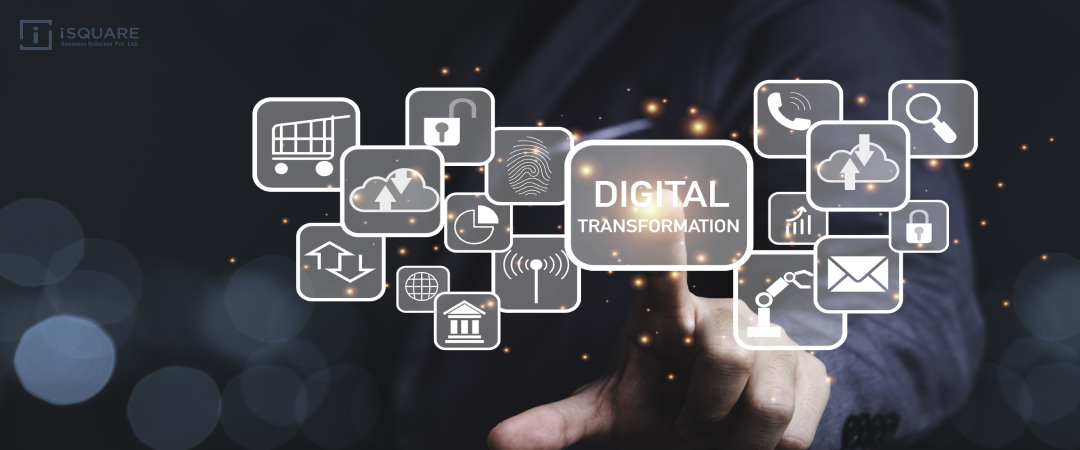 Digital Transformation for Small Medium Businesses (SMBs) in 2023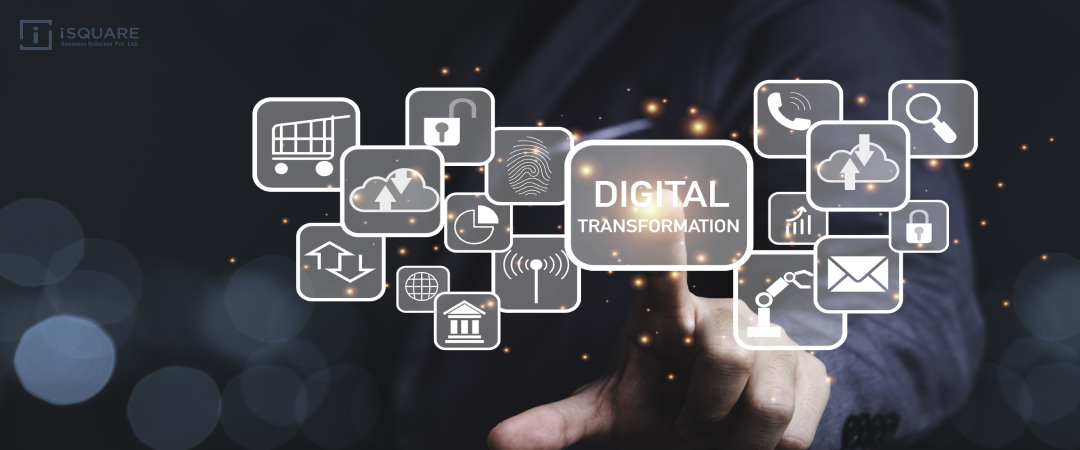 Every business irrespective of their industry vertical is having to go digital with rapidly changing customer expectations and the explosion of new technologies. We will explore how digital transformation will accelerate your business growth and how iSQUARE Business Solution Private Limited can help you in the journey.
Apart from the rapid evolution of breakthrough technologies and growing customer expectations, the recent pandemic has led to a paradigm shift in terms of how businesses view themselves. Digital adoption and transformation has been thrust onto businesses in a way that not many imagined.
What is Digital Transformation?
It is the systematic process of integrating digital tools and technologies into every aspect of your business which transforms the way you create, and deliver value to your customers.
It is often a large initiative involving all levels of an organization. The core objective is to reimagine the way your business models and processes are run, resulting in a seamless experience for your customers and your employees.
Remember that Digital transformation is not the adoption of a single technology solution or a software. It is a mix of strategic, cultural, and technological change that needs to be made, to attain your desired goals.
What is driving Digital Transformation?
Customer experience expectations
Today's customers expect a seamless, personalized experience across all touch points of your business. Even in a B2B scenario, customers expect a digital experience similar to what they undergo in their personal lives.
With your customers, and competitors going digital it only makes obvious business sense for you as well, to adopt digital technologies. It will enable you to make better decisions based on real-time data, improving cost and operational efficiencies.
What are the benefits of Digital Transformation for SMBs?
Amazing customer experience
Customers keep demanding endless choices, competitive prices, and ultra-fast delivery. Digital Transformation(DX) enables your business to deliver all these and keep your customers happy.
Digital enablement of your business will help improve employee productivity. You can automate repetitive tasks and let employees focus on strategic ones and enhance customer relationships. Business process automation streamlines workflows and improves the operational efficiency of your business as a whole.
With automation by your side, you can create a central data repository and can make use of it for data-driven insights. Having a keen eye for data and what it is conveying can enable you to make quick changes to your products, or service.
Learn more about benefits of Digital Transformation in the Workplace Read Here
What are the challenges in implementing Digital Transformation for SMBs?
Among the many factors affecting the DX journey, the following are the most important ones…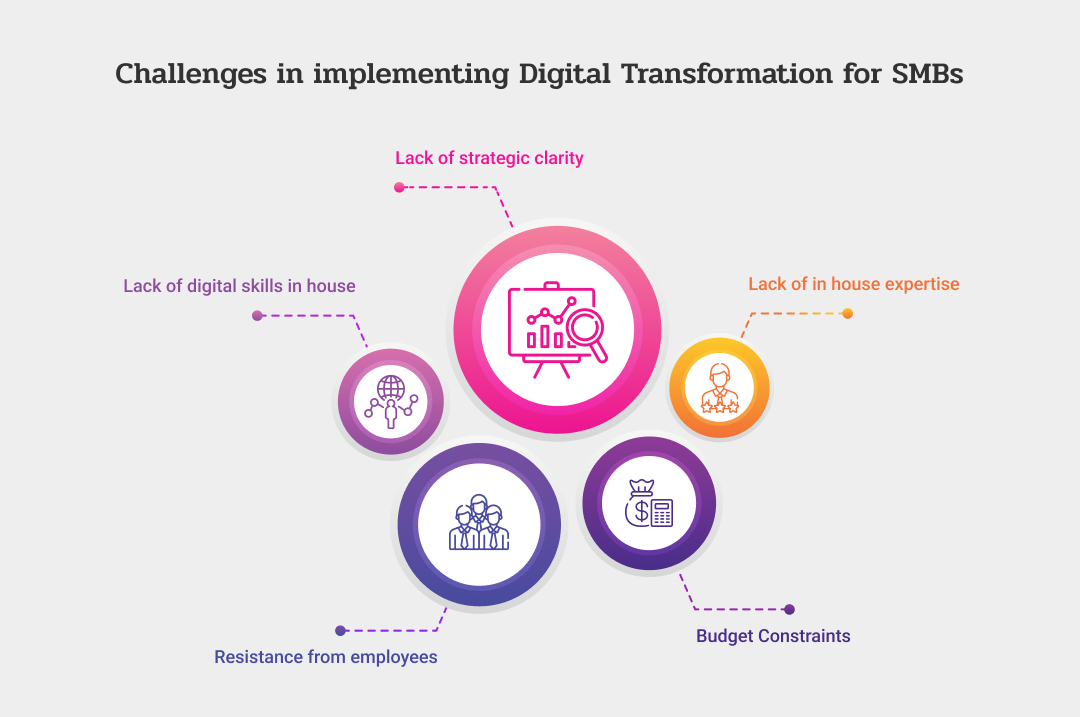 Lack of strategic clarity on Digital transformation
Lack of in house expertise to drive transformation
Budget constraints
Resistance from employees
Lack of Digital skills in house
How to overcome challenges in implementing Digital Transformation for SMBs?
The first step to starting your journey of Digital Transformation is to arrive at a clear picture of your current business challenges, constraints and what your future goals are. At this stage you will also be able to identify what changes need to be done across your business functions to accomplish the goals. For example, you may need a Customer Relationship Management (CRM) tool for your sales team, or an integrated portal for your HR team.
Once this is done, educate all your employees about the WHY of the transformation clearly. Their buy-in is critical to the success of the journey. Also clarify to them, the value proposition of the endeavor and the benefits they will get out of this.
Once internal stakeholders are taken care of, do a competitive analysis to understand your market and competition better. Learn from their mistakes as well. It will give an indicative idea of how they are performing after the transformation.
Last and the most important step is to allocate a budget for this transformation as it will entail changes to your business processes, automation, software, and even hardware. Once you have listed down the goals objectively, prepare a roadmap for how you will go about this journey and also start identifying the right technology partners for your journey.
A word of caution here, before you go full throttle, do a pilot test in a small function or a business process to understand how it works. Based on that you can expand the scope of the transformation activity.
How can iSQUARE help you with your Digital Transformation?
Our in-house experts have been helping organizations ranging from SMBs to enterprises adopt their digital transformation strategy by understanding their domain and providing bespoke solutions.
We have extensive experience in the areas of Automotive, Manufacturing, Retail, Food, Construction, Real Estate, Healthcare, Logistics, and Education.
Once we are clear with your goals, we do a thorough assessment of your current state and identify issues and opportunities. Based on that we provide a plan on how technology can support your digital transformation initiative.
What do we offer
Why iSQUARE?
15+ years of expertise
Flexible engagement models
World class support
Technology Agnostic
Presence in more than 5 countries
Seasoned team of technology professionals
Get in touch with us to reimagine and transform your business today!
FAQ
What is Digital Transformation?

It is the systematic process of integrating digital tools and technologies into every aspect of your business.
Why should I adopt Digital Transformation?

To cater to evolving needs of your customers and to stay ahead of your competition, adopting technology is the only option.
What are the benefits of Digital Transformation for SMBs?

Apart from the long-term benefits of sustaining your business, you can enhance productivity, customer experience, and profitability.
What are the top trends in digital transformation?

It includes hybrid work, Artificial intelligence, machine learning, customer data platforms, and DevOps.