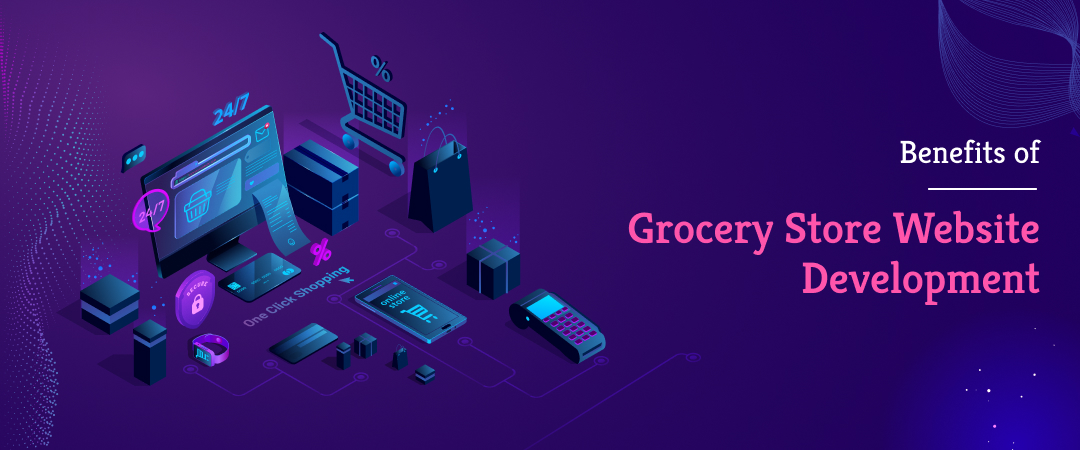 Grocery Store Website Development – Key Features & its Benefits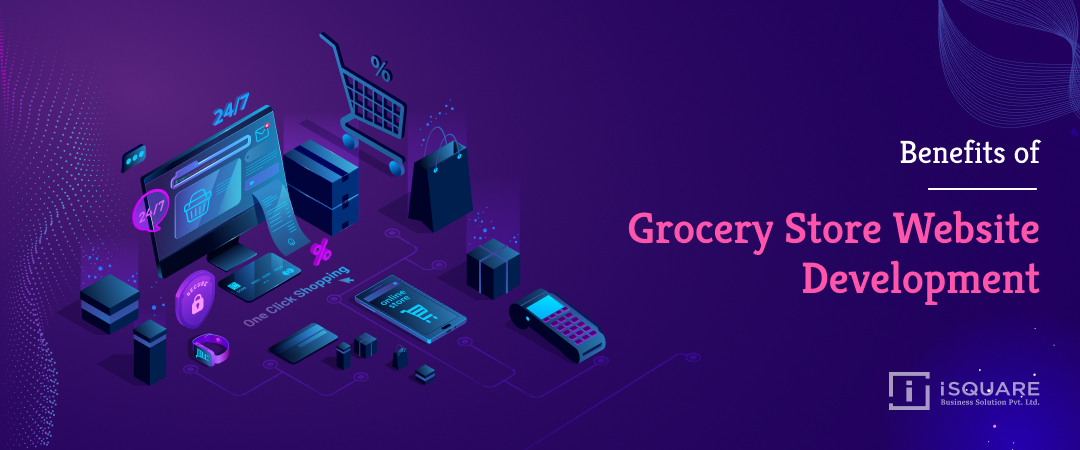 Introduction
Your physical store can be turned into an online store (an online supermarket) where customers can order groceries, fast-moving consumer goods (FMCG), or anything else you sell. Payments can also be accepted online using online banking, credit cards, and a variety of UPI payment gateways.
In this blog, you can understand the key features of grocery store website development and their advantages.
Grocery Store Website Development: Is It A Good Idea?
Is it profitable to run an online grocery store? Well, of course, it is! On the other hand, consumers are catching up to online food purchases rapidly. The online grocery industry will grow by 23.7 percent per year between 2020 and 2025, according to the analysis. Another study predicts that in five years, the grocery e-commerce business will grow to $250 billion.
The purpose of this blog is to give such entrepreneurs or business owners a complete understanding of how an online grocery marketplace works, as well as key features and advantages of grocery e-commerce for retailers.
Features of Grocery Store Website Development
To improve the user experience on your supermarket website, you can include a variety of features. Customers should be able to effortlessly navigate from one page to the next thanks to the website's straightforward design. The less time a consumer spends shopping for things, the more likely they are to return. There are a number of vital features that you should have on your website to attract new clients and keep existing ones. Let's take a closer look at a few of them.
A captivating and appealing home page.
Bar for searching and filtering.
A list of products
Manage all the categories as well as subcategories easily.
Product images and product costs.
Module for adding to the cart.
A calculator for adding the sum of accounts.
Purchase button (CTAs).
Secure payment.
Delivery service module.
Social media logins.
Order and deliver tracking with GPS.
Store information (location and mobile number of the owner).
Map integration.
Payment module or various payment gateway integrations.
Review and feedback module
Product return option.
Benefits of Developing a Grocery Store Website for Retailers and Customers
Benefits to Retailers:
To manage your groceries online, you don't need shelf space, which can be very expensive in large cities. Virtual stores display product images with price tags attached. Purchasing premium storage space is not necessary. Since your customers will not see them, they will not care where the stock is stored. The only thing they care about is the discounts and offers they receive and the timely delivery of groceries. As a result, retailers gain the most from online grocery website development by reducing inventory and lowering store charges.
Tracking consumer behavior
The major hurdle nowadays is figuring out what customers want and making them happy, such as shifting trends in products purchased, seasonal shopping habits, the cause of product rejection, and so on. However, at an online store, evaluating customers' behavior by looking at their previous purchases is simple. With the help of your online grocery store, you may immediately identify unsold stockpiles and highly profitable products. As a result, you'll be able to determine which brand's products are the most popular, and you'll be able to stock your inventory with only those items, minimizing the less popular ones.
Setting up an online business or website is less expensive than setting up a physical store. In order to open a physical business, you must spend on land, design, staffing, electricity, and other expenses. In the virtual or online world, everything you need is a domain, hosting, and a development team. Virtual retailers are undoubtedly less expensive and easier to manage than physical stores.
Benefits to Customers:
Customers can shop for groceries online and do it from the convenience of their own homes. They do not need to plan ahead of time and can order it at any time of day, from early dawn to late at night. They also don't have to verify the store's hours of operation or worry about when the shelves are restocked. Customers are drawn to buy groceries online for a variety of reasons, including same-day or within a few hours' delivery. In the midst of the COVID-19 pandemic, buying from home has emerged as the most effective strategy to limit social isolation while limiting the pandemic's spread. It is, in fact, supported by government agencies.
It's a wise move if you can save time today in addition to money. The ability to save time is one of the major advantages of internet shopping. The fundamental goal of developing an online grocery website is to give customers the power of remote purchasing. It may be pleasurable for someone to stroll through a shopping mall and load their shopping cart with their preferred items. However, not everyone has infinite time to do so. For these people, the introduction of grocery stores on online platforms is a blessing.
Save money with a price comparison
When purchasing groceries online, customers may simply compare the prices of products from several brands. They may effortlessly explore by product or get a list of all available products right in front of their eyes. Consumers can instantly examine available discounts and coupons and make a buying decision; they do not need to approach anyone to learn about current deals.
Yes, online grocery shopping websites have a bright future, but only those with outstanding features will be able to compete. The user experience on your website will not only help you gain sales from first-time visitors, but it will also help you get referrals.
If you are interested in developing grocery e-commerce, you can contact our sales team at (+91) 801–200–5000 or sales@isquarebs.com.