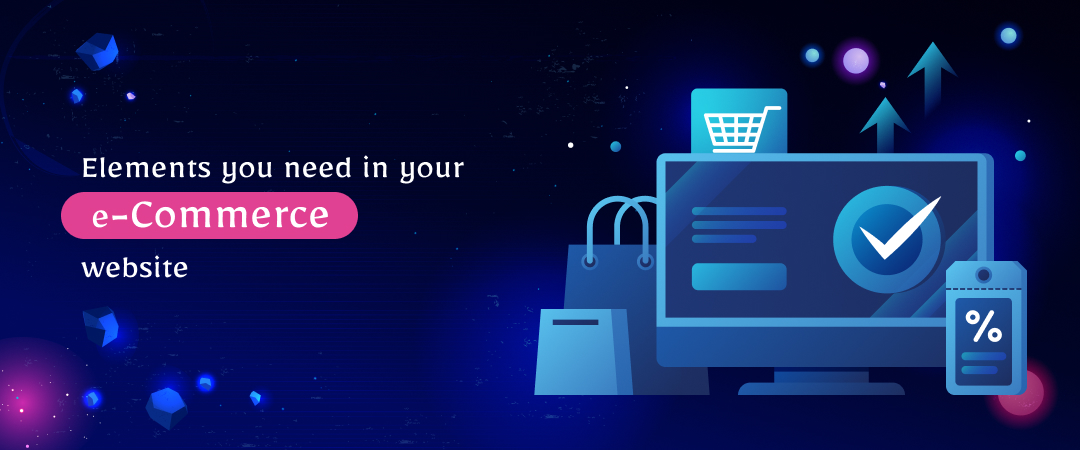 12 must-have elements you need in your eCommerce website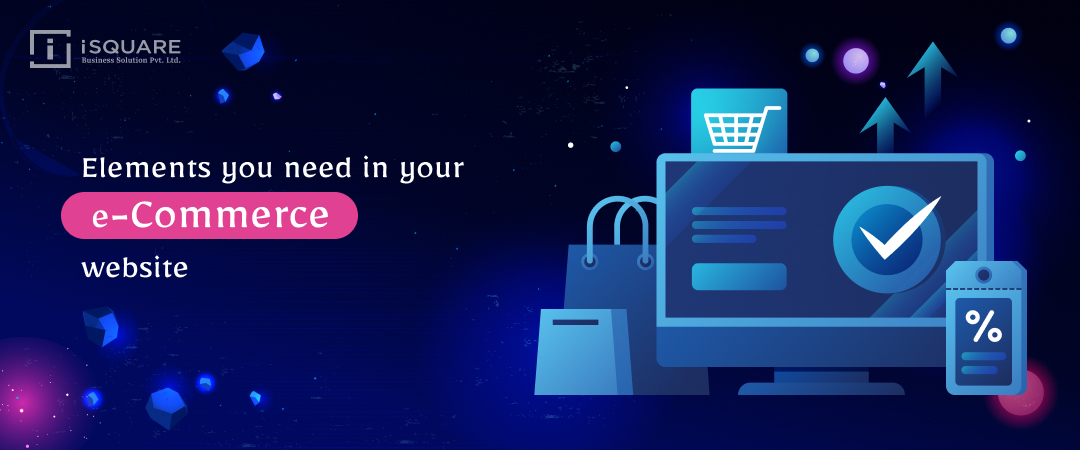 Launching an e-commerce website is more than getting a domain name and hosting plan. You need various elements to build a profitable and long-running e-commerce business. This article mentions some of the essential elements that your website requires for optimum results.
1. High-quality visuals
Good visuals are an essential element in building a first impression. They make you look professional and give you credibility. Visuals for an e-commerce website can be broadly divided into 3 categories.
Product photos
According to the statistics, 75% of online shoppers rely on product photos when deciding on a potential purchase (2021). So, ensure that your photos are top-notch. Take high-resolution images from different angles with good lighting. Keep a zoom-in option to highlight the details. A statistic on drip(website) says that 3D or 360-degree product images increase conversions by 250%.
Videos
Techjury.net says that including a video on the landing page can increase conversions by 86%. A video showing every angle of your product helps the consumer better visualize it. If you are selling a product that comes with an instruction manual, including a video on how to use your product or how it functions, gives clarity. Keep the video short (under 1 minute) and informative.
Web design
Visuals are crucial for the design. Your website design, colors, and fonts should match your product. A jewelry company, for example, cannot use unusual colors or fonts. It needs aesthetic colors and professional-looking fonts. So, hire a professional graphic designer and developer to decide on the best design for your business.
2. Compelling copy and concise content
Though website content and copy are not the technical elements, they certainly are the most important ones. Product descriptions, landing pages, reviews, and any written content on your website should be clear, concise, and compelling. If your copy isn't convincing enough, then all the effort that went into the quality pictures, AI chatbots, and latest design will go futile.
Some essential elements under content and copy are as follows.
Product reviews of verified customers
According to a 2021 stat, customer reviews can spur a 270% increase in conversions. But, only adding product reviews isn't enough. You must ensure that the reviews are submitted by verified customers. With fake reviews floating around websites, people are skeptical about trusting brands and businesses. Adding a tagline of "verified customer", and their picture brings credibility and builds trust.
Product Features
Keep your product features scannable. Avoid complex jargon and unnecessary fluff. Write important details and focus on benefits.
FAQ section
In the FAQ section, tell what your product can and cannot do. This clears any confusion the consumer might have. Most websites only list what their product can do, but listing the limitations will help the consumer decide between the various products.
Other than the elements listed above, ensure that you write compelling headlines, clear CTAs, and concise wording.
3. User-friendly navigation
For e-commerce, a convenient and minimalistic navigation design is preferred over an extravagant one. The average time a site visitor spends on a page across all industries is just 54 seconds (2021 Digital Experience Benchmark Report).
If your customer doesn't find what he is looking for in the given time frame, chances are he is less likely to stick around. It should be easy for visitors to find the product they want. Products should be categorized conveniently, and each category should be self-explanatory.
Some important navigation tips include
Putting an easily accessible search bar
A logo leads to the homepage.
Highlighting best-selling products on the homepage.
Make parent categories with relevant sub-categories.
Separate categories for occasions like sales, festival offers, etc.
Keep the checkout process quick and simple
Filters for price, products, and product availability can also save the consumer time and give a seamless experience.
17% of online shoppers abandon orders solely due to a "too long or complicated checkout process" (baymard).
4. Page speed optimization
With all the features and elements on the site, it is most likely that the loading time will increase. The Aberdeen Group says, "40% of shoppers abandon a website that takes more than three seconds to load." So, invest in reducing your loading time to increase conversions and prevent customers from leaving.
5. Mobile-friendly design and experience
Having a good website isn't enough. Your site should be adaptable to different layouts and screen sizes.
In the second quarter of 2022, mobile devices (excluding tablets) generated 58.99% of global website traffic (Statista). But despite the large amount of traffic, desktops have a higher conversion rate than mobiles. This is because mobile users have a cart abandonment rate of 85.65% (drip). So, optimizing sites for mobile can lead to fewer cart abandonments, increased leads, and higher conversions.
6. Multiple payment options
According to a global study by FIS, digital and mobile wallets (PayPal, Apple Pay, and Google Pay) accounted for almost 48.6% of the global e-commerce transactions in 2021. Not having a required payment option can result in cart abandonment and low conversion rates.
So, include popular themes and a variety of payment options. When deciding on your payment options, research how your audience makes payments and the options they choose. For example, millennials love mobile wallets and don't always prefer credit cards.
7. Multiple security features
According to Statista, e-commerce losses due to online payment fraud were estimated at $20 billion globally in 2021. Consumers give sensitive information like bank and identity details. To ensure that this data is protected from malware and to gain customers, you must ensure site security.
A few essential elements include using HTTPS and multi-factor authentication; getting SSL certification; putting in a firewall and antivirus protection; etc. Take all the steps necessary and prioritize security to maintain the integrity of your online enterprise.
8. Customer support
It is needless to say that customer support is essential for e-commerce. According to revechat, 83% of online shoppers need assistance to complete an order. To give the best customer support service, consider the following elements.
Omnichannel strategy
Extending customer support through various channels (social media, phone, etc.) can contribute to lead generation and conversion. This gives the consumer a seamless experience and increases your customer reach.
Live chat
Live chat is an effective element, as it offers immediate support and maintains consistent customer service. Adding this feature avoids the loss of potential leads.
Self-service
73% of customers prefer to solve issues themselves rather than seek help from the service center (Dimension Data). They do this by scanning through your website or seeking other self-help options. Predict what issues customers might face and include a comprehensive FAQ page, blogs, etc., to help consumers with their queries.
9. Order tracking
After ordering, customers eagerly anticipate the product's arrival. The order tracking element keeps the consumer updated with his product journey and builds trust. Its many benefits include less pressure on the customer support team, alleviating delivery anxiety, and quick detection of issues that arise during the delivery process.
The most common way companies send these updates is through emails, which also opens up marketing opportunities.
10. Shipping costs
The biggest reason for cart abandonment is extra costs for shipping and taxes. You could retain 49% of consumers (drip) by removing or discounting the extra costs. Also, displaying if you offer free or paid shipping on the product page or during the checkout process saves consumers time.
Your shipping policy should be clear and easy to understand.
11. Guest checkout
Most e-commerce sites ask consumers to create an account for the checkout process. But the trend of guest checkout is on the rise. 24% of consumers responded that they abandon shopping carts because there is no guest checkout option (Razorpay). This option makes the checkout process faster and increases the conversion rate.
But guest checkout might not be a feasible option for everyone as it comes with limitations like difficulty in following up with abandoned carts, tracking orders, difficulty in providing customer service, etc. It increases sales in the short run but impacts profits in the long run because of the inability to use consumer data for marketing.
12. Wishlist
Having a wish list is a convenient way to know your customer's desires and ways of thinking. Moreover, you can notify them when an "out of stock" item on their wish list becomes restocked or when the product goes on sale. It reduces loss and increases conversion.
Conclusion
By including these elements, your e-commerce website can be user-friendly and professional at the same time.
Apart from these, you may also need strategic marketing and analytics to track progress. But these elements form the basis of your e-commerce website. So keep this checklist handy to ensure you have everything you need for a successful business.