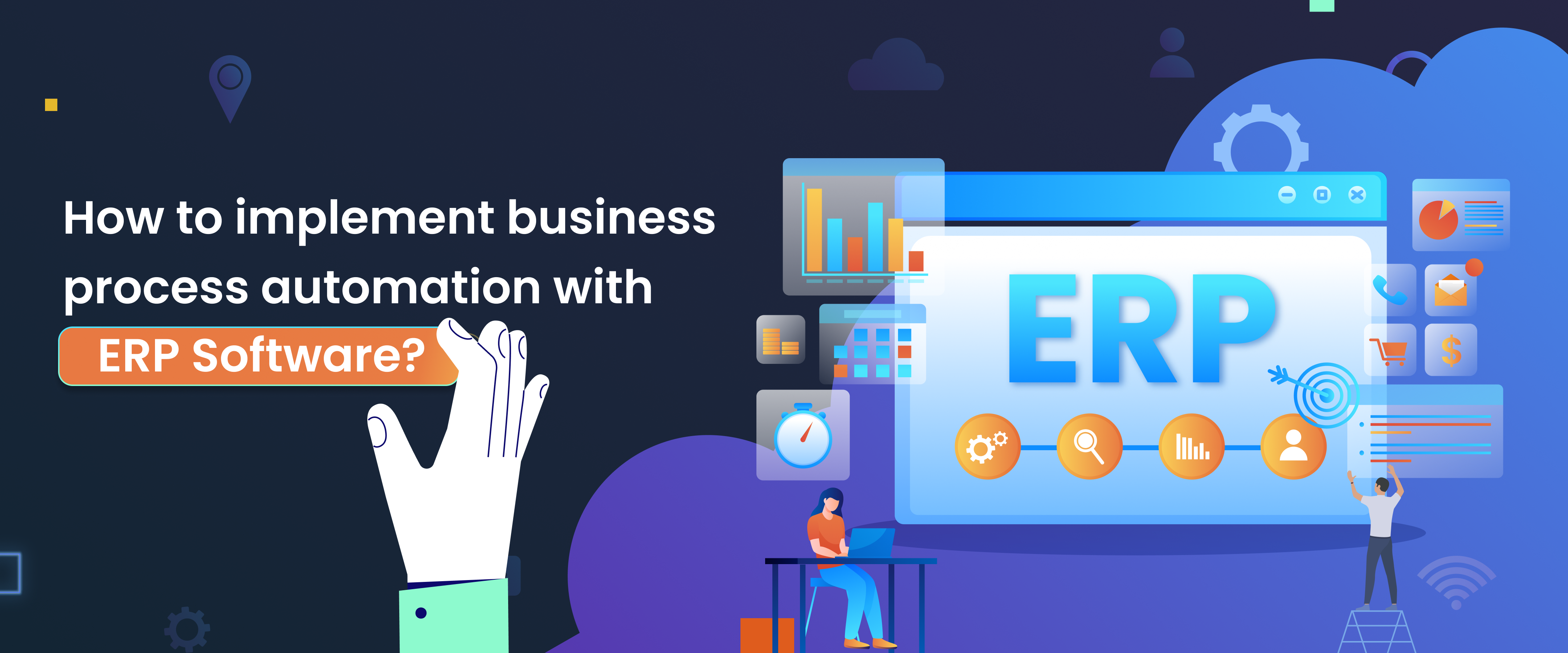 How to Implement Business Process Automation with ERP Software?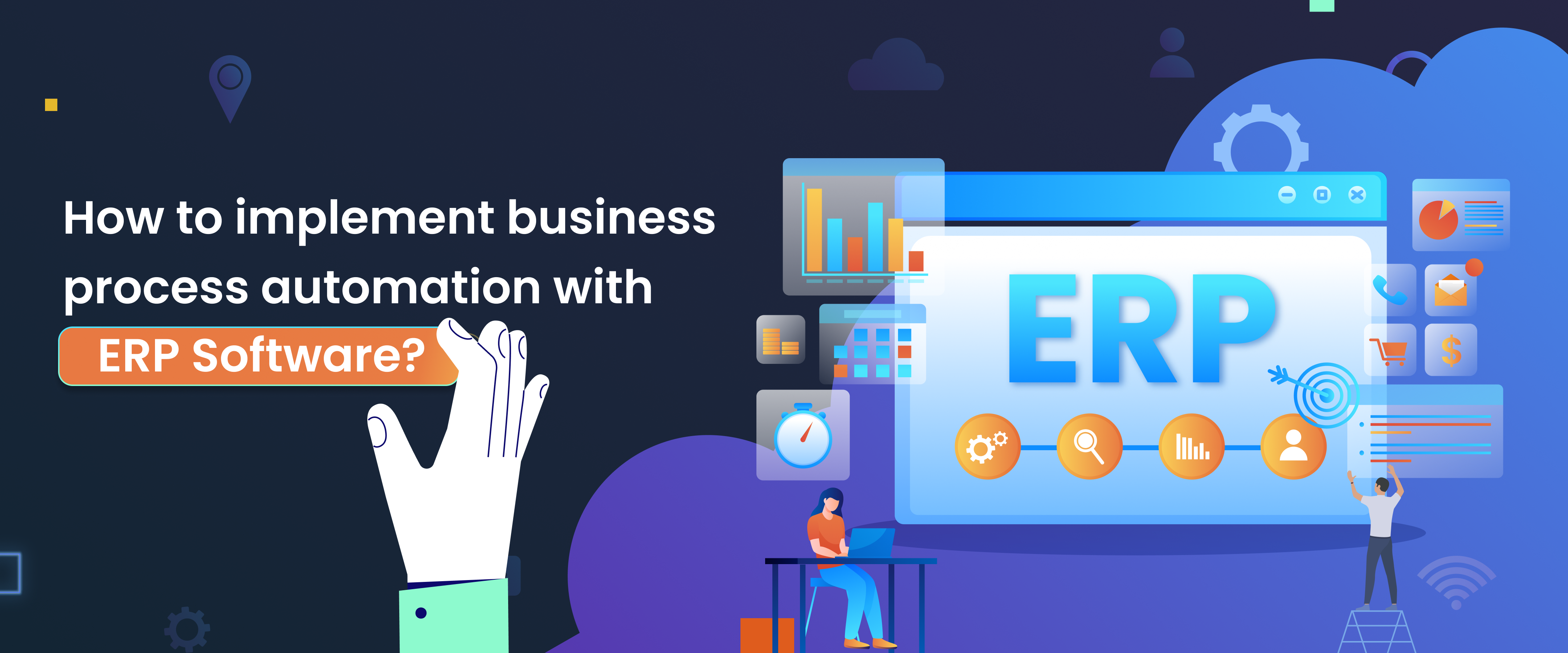 Business process automation is a powerful tool which serves as a personal assistant that never sleeps and eliminates mistakes without complaining. By automating the workflow of their business, entrepreneurs can stay competitive by creating astounding experiences for employees as well as customers. That's why many entrepreneurs are investing in automating repetitive tasks and streamlining workflows by developing automated ERP systems. In this blog, let us explain the concept of what business process automation is, the benefits of implementing business process automation with ERP automation, and how business works smart with an automated ERP.
What is Business Process Automation?
Business process automation is an approach implemented by organizations to tweak their business competence and performance by making the best use of the latest technologies customized to your business needs. By delegating tasks from manual to machine, business process automation enables businesses to spend extensive time on other productive activities.
What is ERP Automation?
ERP automation is a process that transforms regular and typical routine tasks into an automated system. With convenient third-party integration features, you can carry on multiple business operations with just a single software. Moreover, it also refers to the features and functions of software which involves the integration of the latest technologies including artificial intelligence, and the internet of Things.
What are the Business Processes that you can Automate with ERP Solution?
With advanced enterprise resource planning ERP software, businesses can automate various functionalities which save their time and increase productivity. Here are some of the business processes that can be automated using ERP automation,
Document Creation
Invoice Processing
Financial Management
Employee Records Management
Reporting and Analytics
Human Resource Management
Supply Chain Management
Production Planning
Sales and Lead Management
Customer Support Management
Marketing Campaigns
Vendor Management
Get Free Demo of ERP Software – WhatsApp | Skype
Benefits of Business Process Automation with an ERP Software
Business process automation eradicates the pitfalls that cause delays and dwindles your revenue. The enhancements in speeding up the business process productive straight away impact making your customer experience astounding and running your business with a streamlined process.
Here are the top benefits of business process automation with ERP Software,
1. Reduced human error
An automated ERP helps companies to eliminate human errors and improve accuracy. One tedious work that grows weary for accountants and sales executives is entering every piece of data manually. By automating business processes with comprehensive ERP software, businesses can easily put every piece of data in one place.
2. Cost Saving
Cost-effectiveness is one of the essential criteria that all businesses need to consider. With an automated ERP software, businesses can substantially reduce the cost of excessive human resources for completing the work efficiently. Instead of hiring new employees, they can effortlessly manage the work effectively.
3. Detailed and Customized Reports
Checking reports of sales and other performance of business functionalities carries weight in making significant decisions. But manually preparing reports might end up in a blunder as well consumes a great deal of time. By having automated ERP systems, you can effortlessly generate a report according to your preference. Besides, you can have a flexible filter option to collect past and real-time data.
4. Increased Productivity
The crux touchstone that enhances business productivity is handling too much of time-consuming, repetitive, and tedious tasks manually. By building enterprise resource planning ERP Software for your business, you can improve your revenue by automating various business processes like ease of communication between multiple departments, centralizing essential data, analyzing real-time data, and so on.
5. Effective Standardization
In an organization, every employee performs their task in their format if not aligned properly with a central system. A comprehensive ERP software helps businesses to standardize the entire business information under one system. By this employee can follow a standard format to complete their task. Also, the business owners can transparently get a detailed overview of employee's work and daily business performance status.
6. Security and Regulatory Compliance
An automated ERP systems strictly adheres to regulatory compliances. Also, it simplifies compliance by offering exceptional efficiency, and transparency. Besides, it also ensures security by setting a segregated set of roles that enables employees only to access information that is needed for their work to protect company assets.
7. Finest Customer Experience
Business process automation helps businesses improve the response time to customers across various channels and enhance personalization. This improves customer experience and helps businesses gain a competitive advantage in this rivalry market.
Take Away
As mentioned above, businesses are facing ferocious competition these days. Therefore, as a business owner, you must streamline the process by automation your business operation. This is one of the best ways to face the current market trend.

Are you avidly looking to develop an ideal automated ERP systems for your business? You can approach iSQUARE Business Solution, an eminent software development company that offers Custom ERP Software Development Services. Having 7+ years of experience, they are technically as well as intellectually strong enough to understand and transform your business needs into complete ERP software. Therefore, get connected with the iSQUARE experts without any second thoughts.
To know more about our previous ERP software development projects, don't miss out on catching a glimpse at our Portfolio.