10 Best UX/UI Design Tools You Need to Try Now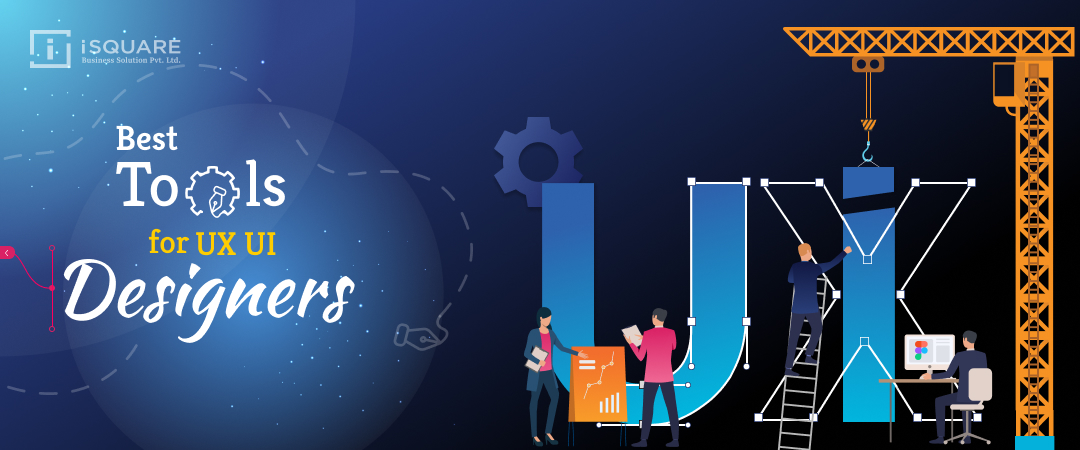 What is UX Design?
User Experience (UX) design is the process of designing a system that provides a meaningful and relevant experience to its users. The purpose of User Experience is to provide people with a great experience through design. User research, information architecture, user flow, wireframes, and usability testing are the stages of the user experience.
What is UI Design?
User Interface (UI) design is the process of creating interfaces with a focus on styling, transitions, animation, and interactivity. UI designer's goal is to create an interface that best adapts to the user's needs. Sketching, wireframing, visualization, slicing, colors, and typography are the stages of User Interface design.
Why do you need a UX/UI Designing Tool?
The UX/UI design tool gives hi-fi wireframes, prototypes, and mockups to the designers.
The UX/UI design tool assists designers with editing and creating designs.
UX/UI design is mostly required for web and mobile app designs.
UX/UI design tools save you time and effort.
Check to see if the tool has all of the editing features you require.
See if you can create a quick design.
Check whether the price of the tool is reasonable.
Make sure the tool is compatible with your operating system.
Ensure that the tool is integrated effectively with other design tools.
Top 10 UX UI Design Tools in 2023
Figma is a well-known and excellent UX/UI design software. It is a cloud-based design tool that's compatible with any system. The Figma design tool includes a plugin library, real-time updates, prototypes, wireframes, and more. It can be easily integrated with other tools like Maze, Zeplin, and Confluence.
OS: Browser-based platform and software that supports all operating systems.
Packages include: Free starter packages, $12 per editor per month for professionals, and $45 per editor per month for organizations.
Why choose Figma?
The Figma starter package is available for free and it is ideal for beginners.
Figma allows multiple people to work on a project at the same time.
Figma makes it easy to have real-time collaboration with your team.
It is easily accessible to everyone.
Figma supports any platform.
Adobe XD is a robust and well-suited platform for UX and UI designers. Adobe XD is primarily used to create prototypes, mobile apps, and websites. It is compatible with macOS and Windows for PCs, as well as Android and iOS. Adobe XD's drawback is that the free starter package has a limited number of features.
OS: macOS, Windows, iOS, and Android.
Packages include: XD SINGLE is $9.99 per month, and ALL APPS is $52.99 per month.
Why choose Adobe XD?
Adobe XD covers each stage of the design process.
Adobe XD supports the import of files from other software.
It integrates well with Adobe Photoshop.
InVision is one of the best digital software programmes that is used by some of the world's most prestigious companies. It allows you to quickly create and deliver interactive designs and mockups in an easy-to-use format. One of the drawbacks is that InVision tools are more difficult to use than other tools.
OS: macOS and Windows.
Packages include: free starter package, a Pro package for $7.95 per month, and Enterprises (customized).
Why choose InVision?
InVision provides an excellent user experience.
Creates all prototypes, sketches, and designs accessible in one location.
InVision offers additional features such as interactive designs, built-in animations, and a vector-drawing tool.
A digital whiteboard is available in InVision. It is used for group members to share ideas and interact with one another.
Sketch is the most well-known and trusted UX/UI design tool. It is mainly used for the UX and UI design of web and mobile apps. The Sketch tool has many features, including wireframes, prototypes, collaboration, and more.
OS: macOS.
Packages include: Standard ($9 per editor/month or $99 per editor/year)
Why choose Sketch?
Sketch has an extensive plugin library. Figma's product design.
Is a solid competitor to Sketch.
Sketch is the best tool for experienced designers.
It integrates smoothly with third-party apps.
It allows you to add links to interactive prototypes for usability testing.
Axure is an excellent tool for advanced wireframing and prototyping. Axure is a top-rated solution tool for both web and mobile app design because it includes ready-to-use wireframing components. The Axure tool has adaptable views, a widget library, coediting, a vector drawing pen tool, a cloud solution, Axure Cloud, and so on. One of the features is that it has a smooth interface for documents. Axure is a complex tool, and it is difficult to learn and design.
OS: macOS X and Windows.
Packages include: Axure RP Pro costs $25 per user; Axure RP Team costs $42 per user; and Axure for Enterprise (customized) costs more.
Why did I choose Axure?
Axure is best suited for experienced designers.
Axure allows multiple designers to work at the same time on a single project.
Axure offers a 30-day free trial.
Axure integrates with Slack and Microsoft so that it is always up-to-date with the latest changes.
Balsamiq has an easy-to-use interface and makes it simple to create low-fidelity wireframes. If you have no experience with wireframing, use Balsamiq, which is simple to put together. This software makes UI designs available to everyone while also focusing on the content layout. Balsamiq software makes it simple to generate new ideas. It provides a drag-and-drop editor to make designing easier for designers. Anyone who does not know how to code can use this software to design.
OS: macOS, Windows, and Web are the operating systems.
Packages include: Packages start at $9/month or $90/year for two projects; $42/month or $490/year for twenty projects; and $199/month or $1,990/year for 200 projects.
Why choose Balsamiq?
It is simple to use for beginners.
Balsamiq plan prices are low, making it accessible to small businesses.
It has a user-friendly interface.
With Balsamiq, you can quickly build layouts and frameworks for your projects.
Balsamiq offers a 30-day free trial plan.
Marvel is a quick and simple platform for both new and experienced designers. Its characteristics include low reliability, high-fidelity wireframes, interactive emulators, and user testing. Marvel has some features for developers, like HTML code and CSS styles. It is compatible with Sketch, Figma, and a variety of project management tools. Marvel is only accessible online and can not be accessed offline.
OS: Supports all browsers.
Packages include: a free starter package, an $8/month Pro package, a $24/month Team package, and an Enterprise (customized) package.
Why Choose Marvel?
Marvel is a web-based UX/UI design tool that can be used for both web and mobile design.
Marvel has wireframes and prototypes with low and high fidelity.
Marvel has an effective user interface.
It has run quickly.
Marvel is a top choice for new and experienced designers alike.
Marvel has multiple tools for every design process.
Proto.io provides everything you need to create, integrate, organize, and test precise mockups. It is simple to use for the collaboration process. Proto.io improves communication between group members through comments and video feedback. Proto.io is also a tool for creating high-fidelity prototypes for UX and UI design. Proto.io supports full interactivity like touch events, mouse events, pitch events, and swipe events.
OS: Supports all browsers.
Packages include: Freelancer Packages: $24 per month; Startup Packages: $40 per month; Agency Packages: $80 per month; Corporate Packages: $160 per month.
Why choose Proto.io?
The full animation feature of Proto.io provides 60 frames per second.
It is used to export your pdf files, HTML files, or to publish them on your website.
The best tool for beginners.
Proto.io handles the entire design process.
Proto.io provides a 15-day free trial plan without requiring credit card information.
Maze is a web testing tool that can be used online and has high fidelity. Maze is rapid testing software that aids in the execution of details with prototypes. It is an excellent piece of software for designing mobile apps and validating concepts. It is beneficial for processes such as rapid prototype testing, usability testing, A/B testing, and remote testing. It provides integration with other software like InVision, Marvel, Sketch, Adobe XD, and Figma.
OS: Supports all browsers.
Packages include: Free starter package, a professional package for $50 per month, and an organization (customized).
Why choose Maze?
Maze has a free starter package for individual projects.
FlowMap is a web application used to create flow diagrams, manage your progress, create personas of your potential target audience, and set up sitemaps for website planning and other things. FlowMap does not support prototyping. It is compatible with Slack.
OS: Supports all browsers.
Packages include: Free starter package; $10.8/month for Pro; $34.8/month for Team; and $119.4/month for Agency
Why choose FlowMap?
FlowMap is a good choice for small companies.
FlowMapp enhances your user experience.
FlowMapp's sitemap tool is easy to use and supports collaboration and website page creation.
The above UX/UI design tools offer unique and valuable points which save time and money. Based on your design requirements, choose the tool that meets your needs.
If you are looking for UX/UI designer, contact our experts today. Our team has expertise in handling various UX/UI design tools for designing web & mobile applications based on the client's requirements.