Building an E-commerce Website: A Step-by-Step Guide to Development
According to Statista sales through E-commerce store are anticipated to reach 22% of global retail sales by 2023. The leading cause of this exponential growth is the change in consumer shopping habits. Due to this positive change, numerous e-commerce sites have flourished, allowing them to sell to customers worldwide by setting up efficient shipping and customs clearance procedures.
Continue reading as we go through them:
1. Ideal for enlarging new market base:
Even though many small businesses and startups cannot afford to open locations on every street corner, they cannot restrict their customer base to a single location. An e-commerce site is perfect for reaching out to new customers online.
2. Enables the development of a brand's image
Undoubtedly, online stores like Amazon and E-bay enable the listing and sale of your goods. Although they don't know it is your brand, customers use your product in generic ways. Building your e-commerce site allows you to showcase your products how you prefer. In this case, the customer is not the marketplace but rather your product.
3. New wave of shopping experience:
Online businesses give users the convenience of shopping in their leisure time. Following consideration of their needs, they can navigate and choose the product. Furthermore, videos, individualized services, and shared stories highlight their experience.
What is the process undertaken for building an e-commerce website?
In the digital space, creating an e-commerce website is in high demand. With so many seasoned players in the market, it has become a simpler task than before. But before beginning the process of building the website, specific guidelines and requirements must be followed.
You can also read about How do eCommerce impacts in Digital Transformation Business
The fundamental guidelines one must adhere to are as follows: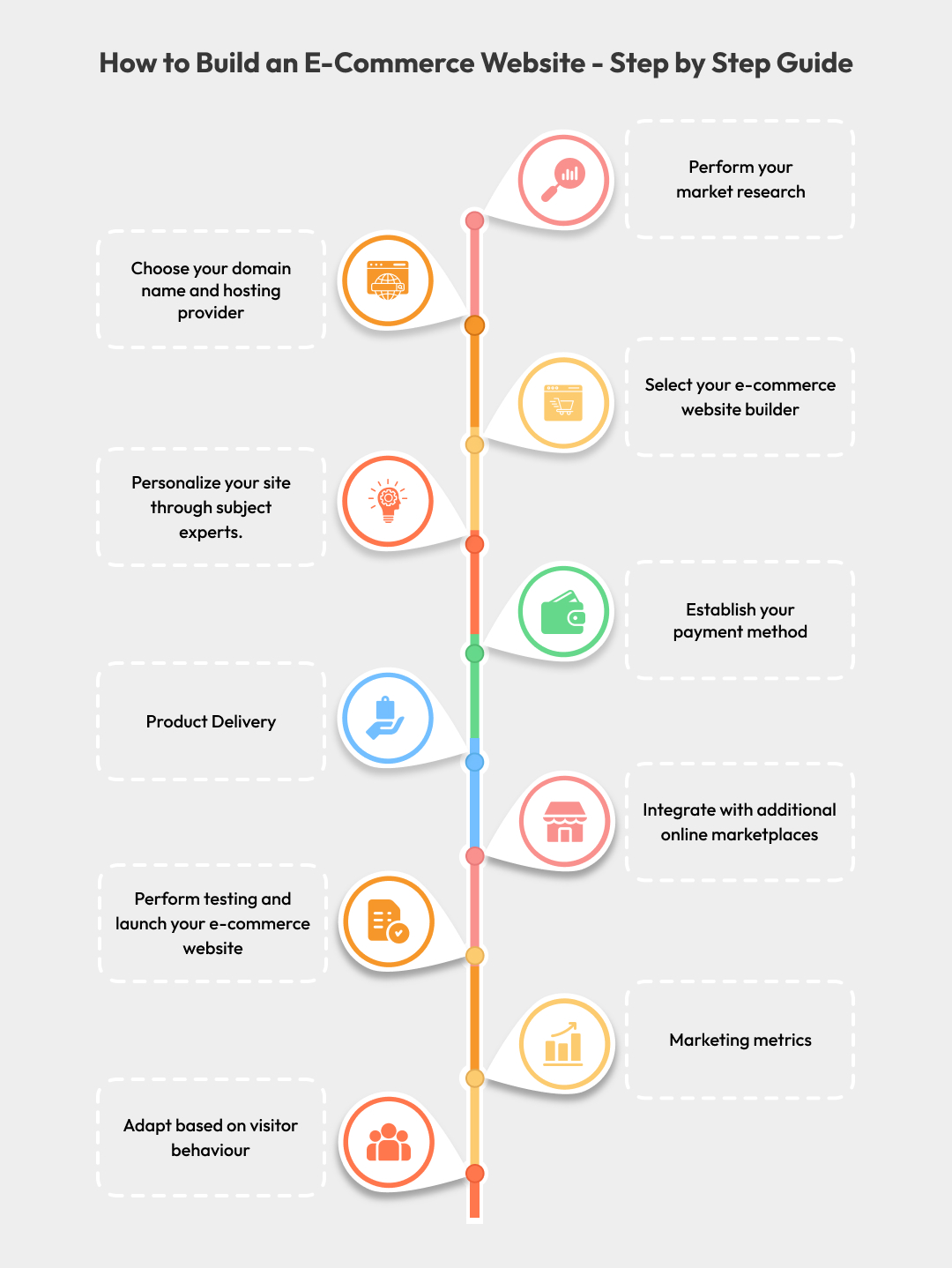 Step 1: Perform your market research
Healthy competition is a catalyst for development and innovation. However, a more thorough analysis is required if you intend to launch your company and its goods into a crowded market.
Before spending your capital and time on developing your e-commerce website, there are a few constructive tools available to determine if it is feasible for your business venture to succeed.
Social media – platforms such as Facebook, Snapchat, or Instagram help you to broaden your online presence. You can interact with customers to know what is trending and how marketing is taking place.
Marketplaces – like Amazon, Flipkart, and E-bay are the best places to conduct research. Discover what their best-selling items, reviews, and ratings are helpful to learn about the preferences of our customers.
Survey – your current customer base helps to know their preferences. Various survey sites can assist you in conducting a poll and send you the results.
Step 2: Choose your domain name and hosting provider:
Domain Name:
Your domain name represents your company's name and site address. Therefore, keep it consistent with your company, applicable to your product, and simple for customers to remember. If your desired domain name is available, a domain search tool like Instant Domain Search can assist you in purchasing it. To keep your domain name "live," you must pay a small annual fee.
Hosting Provider:
E-commerce web hosting is where your historical and confidential data are stored. Off-site cloud hosting is one option, and on-premises hosting using company-owned servers is another. Any choice you make will significantly impact your time, expenses, and security. As a result, decision-making from the options requires clarity. A few points to consider are:
Capacity to handle increased traffic demands from website visitors.
To maintain higher sales, a higher uptime percentage is needed.
SSL encryption for protecting your customers' both financial and personal data.
Adequate storage space and the capacity to scale up and down quickly in response to demand.
Automatic backups run regularly to protect and restore your data in an emergency.
A quick database to access all customer data and their history of transactions, searches, and preferences. A slow-loading database will make visitors lose interest.
Step 3: Select your e-commerce website builder:
Your website builder serves as the framework for your e-commerce site. If you are dedicated to having the best e-commerce, a few online store builders are available, ranging from entry-level to enterprise-level platforms. Depending on your financial situation and technical vision, you will choose.
Some of the known e-commerce website building included are: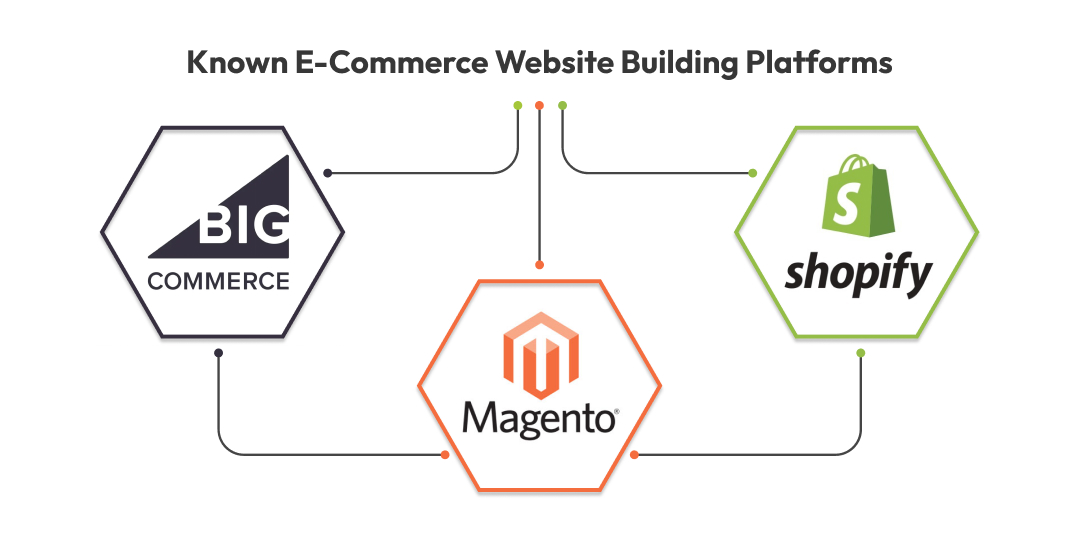 BigCommerce
SaaS products are scalable and flexible.
A 24/7 customer support service.
Impenetrable security barriers and multi-platform-supported payment gateways attract global customers.
Headless support is helpful for API-driven experiences.
Shopify
SaaS products are entirely hosted and simple to set up.
Based on the cost, a variety of plug-ins can accommodate more.
Despite traffic spikes, it allowed for handling many transactions per minute.
Magento
The self-hosted solution allows you the freedom of creativity.
For better platform utilization, coding expertise is required.
Offers a wide range of integration options and assistance for handling instant purchases.
iSQUARE Business Solution has the technical capacity to support your vision if you're interested in customizing your e-commerce website.
Step 4: Personalize your site through subject experts:
The success of your e-commerce website depends upon the reviews and experiences of your customers. Numerous widgets, apps, and plug-in types improve the website's functionality.
You need experts in the following areas to take full advantage of e-commerce features. Notable ones are:
SEO specialists – are needed for website optimization, SEO, and keyword research. This aids Google's algorithms in giving your website a higher ranking.
Front-end and back-end developers- contribute to the website's aesthetic appeal and internal functionality.
Web designers – create the website layout and integrate graphics, audio and visuals to function seamlessly.
Web developers – help in the building and maintenance of the website. Your mission's goal is achieved through their efforts to improve customer experience and the project's success.
Step 5: Establish your payment method:
The use of payment gateway technology enables business owners to accept credit or debit card payments online. Online stores also have a payment processing portal and card reading hardware. When conducting business, using a flexible and straightforward payment method is advantageous. As a result, be adaptable to accept various payments to help customers.
Payment processors like PayPal can be integrated with stores like Shopify, Big Commerce, and Square Online. For instance, Square and Shopify both have integrated payment gateways. Shopify charges extra fees if you choose a different payment option, whereas Square Online lacks flexibility.
Check out our eCommerce capabilities here
Step 6: Product Delivery
Many e-commerce website builders provide different transportation options; only your present address and contact details are required. All you need to do is integrate this facility with your site through your web developer. Give customers multiple options to have a better experience.
The most common ones are:
Free shipping: is always a winner. But, to offset the free shipping cost, the customer must purchase a minimum amount to qualify for the scheme.
A flat rate: allows customers to pay the same amount regardless of size, quantity, or price.
Real-time shipping quotes are based on the item's size, weight, and destination. This is suitable for heavy items and costs more for shipment.
Store pickup: is another cost-effective method. The shoppers can pick up the product locally.
Step 7: Integrate with additional online marketplaces
Free to list your products on additional e-commerce platforms like Amazon and Walmart. While others, like BigCommerce, already have features that give you a choice to integrate with online marketplaces. If not, your online store builder can assist you. It is not always necessary to have direct access to all online marketplaces. Select the important ones for developing your brand, configure those integrations, and test them before going live.
Step 8: Perform testing and launch your e-commerce website
Conduct various types of quality assurance testing before launching your e-commerce website to ensure there are no bugs for users to encounter. Take a few test orders from your online shop and process them. Check out how the various payment gateways connect to your orders and how the shipping process works. Launch your site as soon as the relevant developers are satisfied with the results.
Step 9: Marketing metrics
Adjusting the marketing strategy depends on how the demographics contribute to the traffic. Using marketing tools like Google's e-commerce tracking, you can easily access data about your sales volume, order volume, billing location, and other details. Enable and add code to your e-commerce site so that Google Analytics can collect and send data from it to include e-commerce data in your reports.
Step 10: Adapt based on visitor behaviour
Using the information gathered, analyze consumer preferences. Your web design and marketing plan can be modified in light of the insights. Customization and personalization are the "mantras" of the modern marketing era. Customers are more willing to pay more when there is a personal touch. For your e-commerce platform to be successful, maintaining customer loyalty is crucial. Try to achieve it.
Are you ready to build your e-commerce site with iSQUARE Business Solution?
We anticipate that e-commerce sales will grow exponentially, as they are currently booming. A properly maintained and working e-commerce website is essential to current trends. This attracts customers to your business when you give them easy product access.
You need developers who are knowledgeable, skilled, and team players if you want to create a website that makes it simple for users to navigate and find the products they need. When you work with the team at iSQUARE Business Solution, our team comprises experts from various industries who work together effectively and quickly to launch your online business. Contact us to get started.