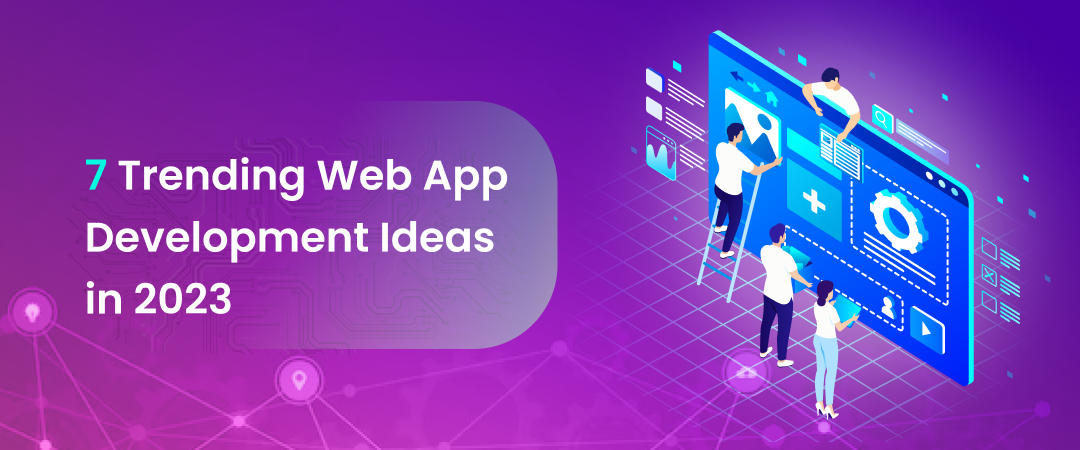 7 Startup Web App Development Ideas That is Trending in 2023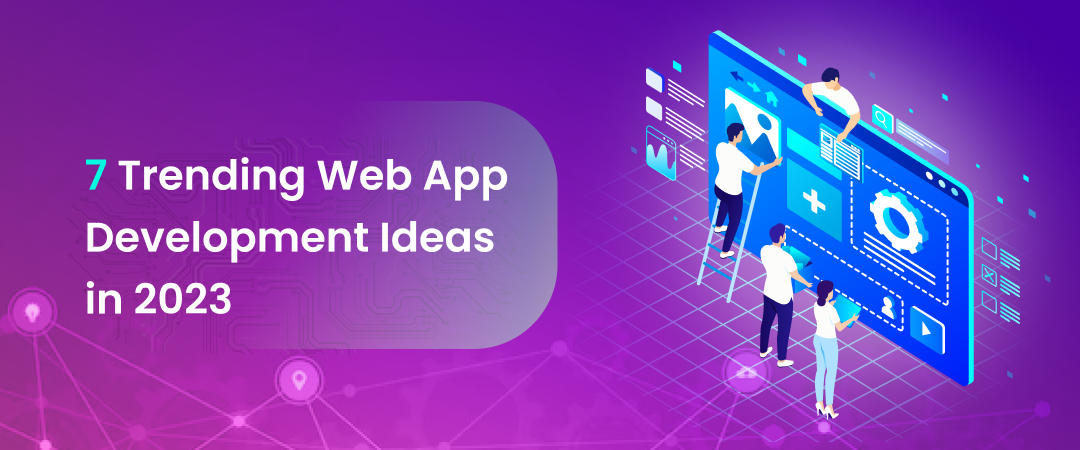 With the digitally growing environment, technology has impacted the way people perform their routine tasks. Therefore, to win the war of competition in your business, it is essential to create a strong online presence. However, you can never flourish in your business, if you build a business just for almighty dollars. Apart from making revenue out of your business, you should make a difference.
Being an entrepreneur, you must fill in the gap of opportunity between what you do and what your customers are looking for. When it comes to online business, there are various forms of online business which include website, mobile app, and web app. Though mobile apps are preferred by many entrepreneurs, there are many reasons to choose a dedicated web app to achieve a competitive advantage. As we are experiencing technological advancements with the advent of web apps, many entrepreneurs are looking to build an astonishing web app for their business.
This is why web app trends incline users as well as entrepreneurs to raise a few questions. Keep scrolling! You may get to gain insights on revenue generating web app ideas.
What is a Web Application?
Web app is a type of software that can be accessed using a web browser. There are also certain specific web browsers to access them. However, major web apps available on the internet can be accessed using the regular browser.
1. Static web application
A static web app is an application that is composed of static files like HTML, CSS, and JavaScript that are served to the users' web browser directly. Static web apps are often used for simple websites that do not require portfolios or blogs. They can be hosted on a variety of platforms like GitHub, Netlify, and Amazon S3.
2. Dynamic web application
A dynamic web app is a web application that provides interactive features and dynamic content to users. Unlike static web apps, dynamic web apps are server-side processing to generate web pages in real-time based on user requests. They are built using server-side scripting languages like PHP, Ruby on rails, or Python, which enable developers to process user input query databases and generate dynamic content.
3. E-commerce web apps
An ecommerce web app allows businesses to sell products/services to customers online. These web apps typically provide a range of features such as product catalogs, shopping carts, payment processing and order management that enable businesses to manage their online sales operations.
4. Single-page web application
As the name suggests, the single page web app is a type of web app that loads and interacts with a single web page dynamically and rewrites the current web page with new data from a web browser without displaying an entire new page. Single page web apps are more user responsive compared to multi page web apps.
Now without any further delay let's get started with the key section that lists down the web app development ideas that gain user's traction in 2023.
Top 7 Web App Development Ideas For a Lucrative Startup in 2023
1. CRM software for businesses
Are you looking to build a web app that helps companies target different audiences, set scores and alerts based on an individual lead or customer's activity, and maintain relationships?
Building a CRM web app is the best option you can opt for.
With CRM web app, you can:
Build long-term relationships with customers and you can accumulate the right data to build an aggregate view of the customer.
Segment customers & prospects and break down data to make it easy to create customized customer data.
To retrieve the existing customers, you can set existing reminders about appointments or when to send follow up emails.
To help salespeople sell more and sell faster, it is the access to customer interaction history through the entire customer journey that allows sales reps to anticipate customer needs.
Review detailed analytics with built-in analytic features and contextualize data, breaking it down into actionable items and user-friendly metrics.
2. On Demand Services web app
As people are so busy in their daily routine, they have started utilizing on demand service apps for their regular tasks. Be it grooming or gardening, cooking or packing, you can make use of it with just a few taps. That's why on demand apps is gaining massive popularity in recent days.
Therefore, if you are looking to target customers who need fast and easy access to services, then on demand service web app development is an ideal choice that you can pick out.
If you are still looking for the expedient reasons to use on demand service apps, then here are some possible reasons:
It is quick and efficient
Customers can place an order in a drop of the hat by utilizing on-demand delivery app. Users can rapidly and constructively perform all day-to-day tasks.
Convenient
Convenience is one of the key attributes of using on demand service app. On demand apps have a lot of astonishing features like in-app messaging, advanced search, real-time tracking, versatile payment method, filter option, etc.
Multitudinous Business Opportnuities
The best part of an on demand app is it brings a lot of services that users can pick out. It provides business opportunities to versatile industries to reach their customers.
Crystal clear overview
Being a service provider, if you have good number of happy customers to your business, then users can spontaneously view your business reviews without having to mention separately.
3. Social platforms for similar minds
Do you agree that social media apps are becoming the most sought-after and trending app in recent days? Social media apps allow users into the fad and trends, along with keeping you updated with what is trending. Social media has not only influenced youngsters but also people from all walks of life. As the growth of the social media industry is thriving, it is the accurate time to dive into this entertainment industry. To plunge into this sector, you need to build a social media app that provides you with the state-of-the-art features along with a user-friendly interface.
By social media web app development, you can
4. Live Streaming Web App:
Live streaming is the contemporary way of creating real-time engagement and interactive between broadcasters and beholders. Also, it helps businesses to carry their marketing efforts to the next level. Besides, live streaming web app development can be beneficial for various industries like Entertianment, retail, real estate, healthcare, logistics, etc.
Here are some potential benefits of live streaming web apps
Live streaming apps have a worldwide allowing content to be accessed by audiences from anywhere in the world, increasing the potential audience size.
Live streaming apps are generally cost-effective compared to traditional broadcasting methods, as they require less equipment and infrastructure.
Live streaming apps often provide audience analytics, such as viewer demographics and engagement metrics, which can help broadcasters to tailor their content to their target audience.
Live streaming apps offer flexibility, allowing broadcasters to stream from anywhere with an internet connection, making it possible to reach audiences in real-time from remote locations or during travel.
5. Language Learning App
Developing a language learning app can benefit businesses in several ways. A language learning app can provide an engaging and interactive learning experience for users, leading to increased engagement. It can also reach a global audience, expanding the customer base and brand awareness. Monetizing the app can provide an additional revenue stream. Developing a language learning app can also establish the business as a leader in the education industry and provide valuable data on users' learning habits and preferences.
Potential benefits by building a language learning app
Provides an additional source of revenue for businesses, either through subscription fees, in-app purchases, or other monetization strategies.
Allows businesses to expand their customer base and increase brand awareness.
It helps businesses position themselves as business leaders in the education industry, showcasing their expertise and commitment to providing value to customers.
Provides more valuable data on users' learning habits and preferences, which can be used to improve the app and develop more targeted marketing campaigns.
Promoting language learning contributes to social responsibility by helping to bridge language barriers and promote cultural understanding.
6.Food Delivery Web App
The food delivery market is growing far and wide. In such a scenario, having a food delivery web app can work wonders. This app can facilitate users in purchasing desired food items from the comfort of their homes. Especially, now, when the world is glued to the online arena, such apps can be of great assistance to both, business owners and end users. The app will be integrated with all local city restaurants, for quick ordering and service.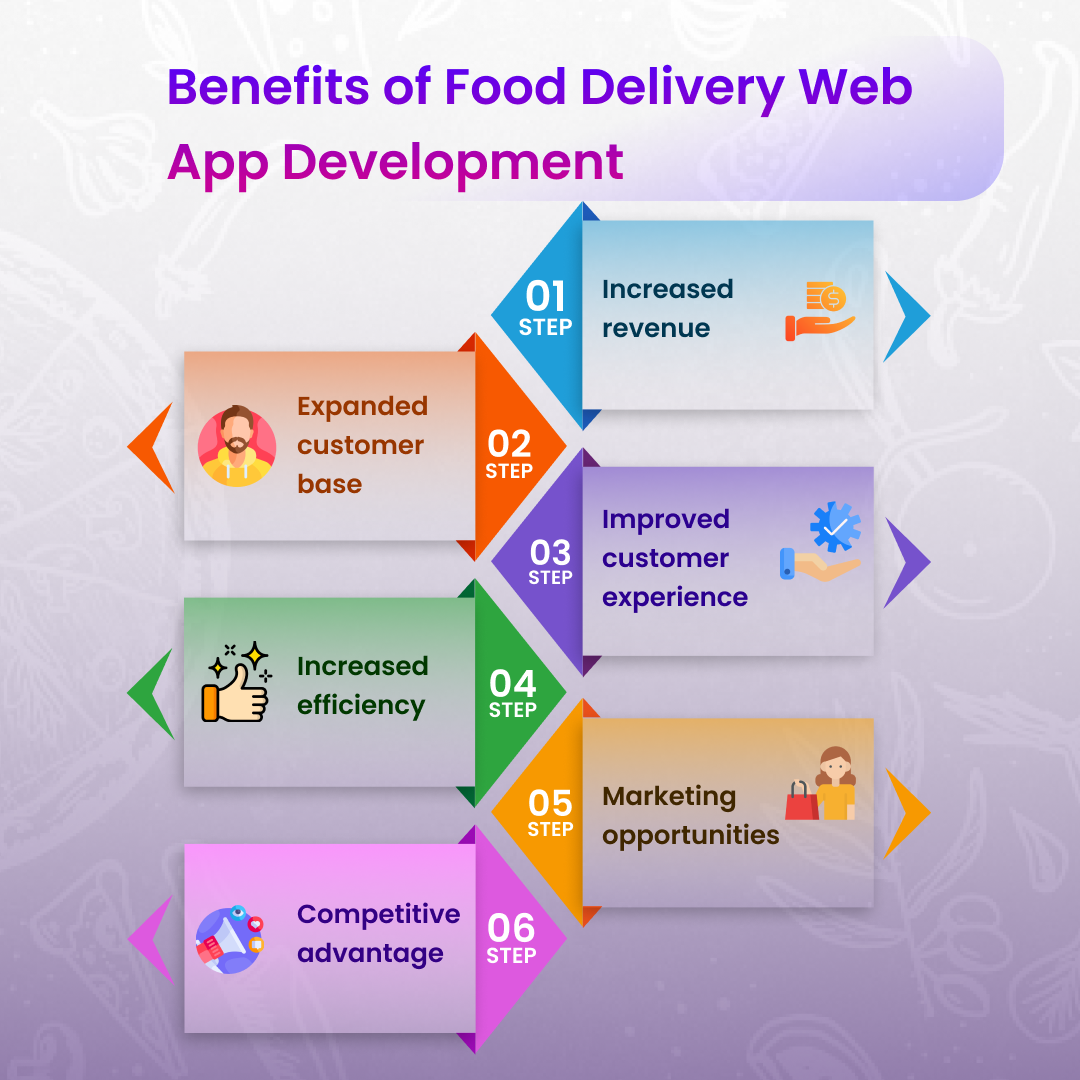 Considerable benefits of food delivery web app development:
Increased revenue
Expanded customer base
Improved customer experience
Increased efficiency
Marketing opportunities:
Competitive advantage
7. Reselling App
Reselling is the new buzzword in the world of app development because it enables businesses to save a lot of money, effort, and time. And mobile commerce has become the heartbeat of the online shopping journey. That's why developing a reselling app is one of the profitable investments that yields tremendous profit
Reselling web app development can provide several benefits for businesses, including:
Additional source of revenue for businesses, either through commissions on sales generated through the app or through subscription fees.
Creates a unique value proposition for businesses, offering a specialized service that sets them apart from others in their industry.
Provides a convenient and reliable way for customers to purchase products or services from a business.
Wrapping Up
Finally, you've made it to the end of the blog! On reaching the end of this detailed blog, either as a reader or a business owner, you must have understood the essence of remunerative web app and what to do next.
Having gained a clear idea of some impressive web app ideas, it's high time to get things done instantly. The skyrocketing demand for web apps with groundbreaking functions urges an entrepreneur to build a web app that fits the specifications of his/her online business needs.
iSQUARE has rich expertise in delivering top-notch web and mobile apps for various online business models over the years. It is surely a one-stop place to build optimal web applications at the best prices.
Our web app solutions are rigorously built with multitudinous functions, responsive design, and the latest technologies to show unparallel performance across various platforms. Therefore, reach iSQUARE and discuss your fresh web app ideas with their team of experts to thrive in your online business venture.