How New Generation Entrepreneurs Are Creating Quotations Instantly?
For all entrepreneurs, you know how a quotation impacts sales and how it significantly enhances your conversion rate. Not only does quotation convert the leads into customers, but it also acts as a tool to influence the purchase decision of your target customers.
In the fullness of time, the quotation creation game continues to be influencing buying factors. But there are certain challenges in creating a quotation manually. In this article, let's discuss the difficulties faced in manual quotation creation. Along with that, you'll also get to know the process of creating quotations effortlessly.
Difficulties of Manual Quotation Creation
1. Time-consuming Process
Creating quotations manually is extensively time-consuming as requires many processes like gathering product information, price calculation, formatting the document, and so on.
2. Lack of Authenticity
When you are starting out a business, reliability is the crux for your organization. Sending manual quotes to clients might reduce the professionalism of your business. And it subsequently diminishes the reliability of your business.
3. Human error
There is a high probability of occurrence of human errors while creating quotes manually. Even a minor error in numbers/ figures in the quotation can result in potential financial losses.
4. Lack of consistency
When there are many resources involved in manual quote creation for clients, it would result in a lack of standardized format. This in turn reflects in getting a negative impression among target customers.
5. Limited scalability
Tracking multiple quotations and follow-up with potential customers becomes a hectic task when you are managing quotes manually. This significantly impacts business growth with missing opportunities.
6. Limited collaboration
Manual quote creation has to be dependent on multiple resources like sales representatives, managers, and finance teams. Without having a systematic process, manual quotation creation might result in miscommunication, and delays in reaching clients on time.
7. Inability to integrate with other systems
Manual quotation creation lacks efficiency as it could not be easily integrated with certain business functions like inventory management systems or CRM software. Therefore, it directly affects data accuracy, business planning, and decision-making process.
8. Lower customer satisfaction:
As discussed above, manual quotation creation might lead to delays, errors, and unsystematic quotation creation. These issues can result in lower customer satisfaction.
Reading the above sections, you'll have a question lingering in your mind,
How to Create Quotation Effortlessly?
The process of managing quotation creation effectively is considered a key aspect of a business. And, nowadays, quotation is closely associated with various functions like pricing, marketing, branding, and so on. Moreover, it has remarkable power in creating great first impressions and influencing users to buy your product/service.
Therefore, it is essential to pay meticulous attention while generating quotes. That's why you need robust quotation management software that helps you create a streamlined workflow, saves ample time, enables seamless integration, and many more functions that improve your productivity.
Yesss, we can read the question in your mind. You're keen to know how quotation management software helps your business, right? Then keep scrolling.
Why is Quotation Management Software a Game Changer for Your Business?
A comprehensive quotation management software comes with powerful features that elevate business productivity and growth. Here are the top benefits of how quotation management software helps your business.
1. Simplifies Quotation Creation
With quotation management software, you can generate error-free quotations in no time by just modifying the client's name and adding product-oriented specifications. By this, you can massively eliminate errors that could happen while creating manually. Also, if there is any discount or additional modifications in the entry, the calculations will be auto-corrected and updated without any technical glitches.
2. Enhances Sales Operations
Maintaining consistency is an essential aspect of the sales operation. When manual quotation creation lacks a standardized format, quotation management software ensures to provide a systematic format. With this, you can effortlessly generate quotes and include new products in case of any updates.
3. Real-time Product Information
With the quotation management software, you can keep your client and employees informed with updated information. This helps in elevating customer engagement and providing them with reliable information rather than a typical outdated list.
4. Accurate Reports and Analysis
Quotation management software helps the sales team by providing precise reports on client data, schedules, and transaction history which helps you to understand your business with excellence. Also, it comes with smart reporting tools and templates which can be integrated according to your business model.
5. Track the Quotation Status
With astonishing quotation management software, you can save time in handling the whole quotation procedure right from beginning to end. You can effectively track the status of quotes that are sent to customers. These features extensively help businesses to improve conversion rates of the business.
6. Integration with Other Tools
Having quotation management software, you can seamlessly integrate with other software according to your business model. Also, you can collaborate with your internal team to promote better communication.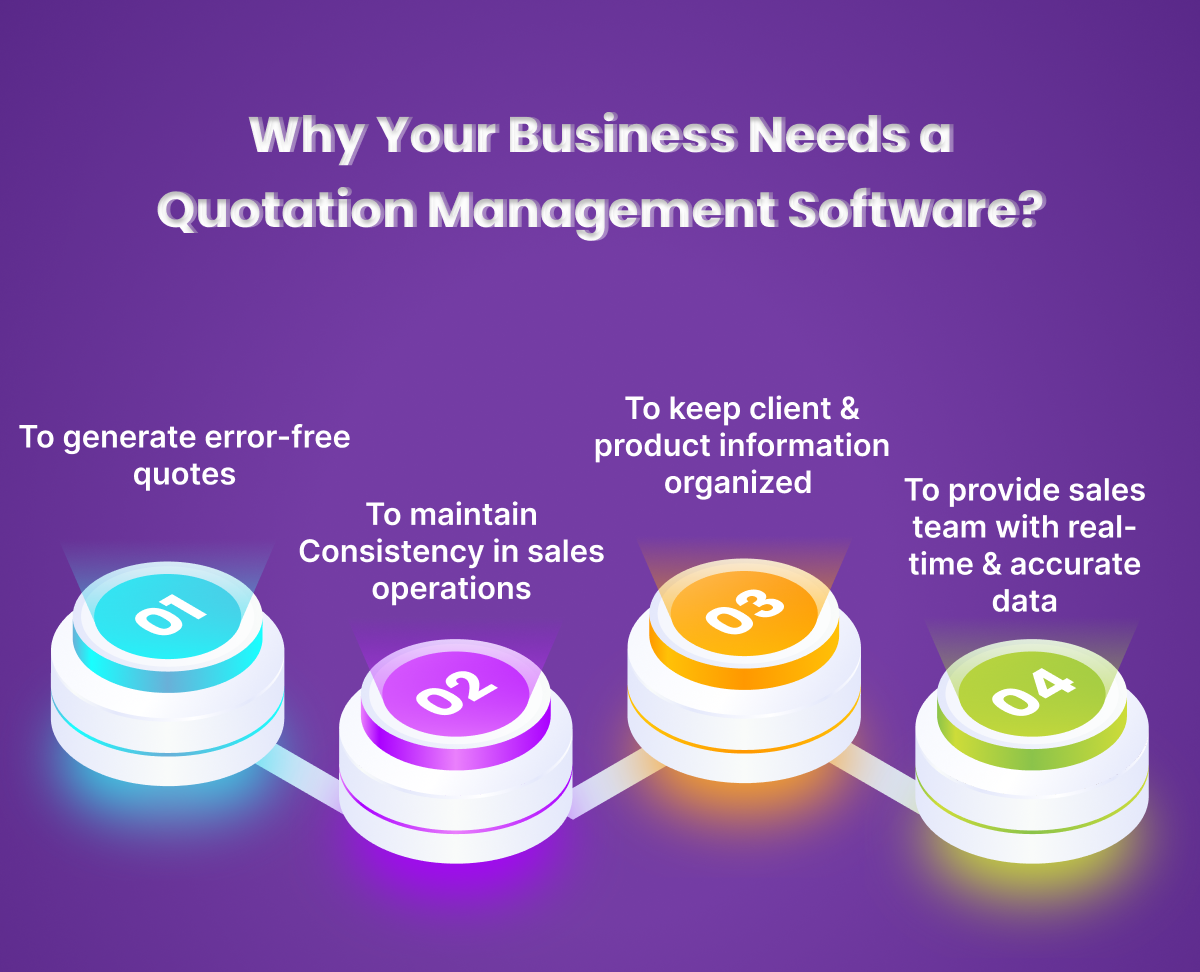 Take Away
As we write this, many businesses are still battling with typical and outdated quotation creation processes. And now most entrepreneurs are gradually becoming aware as they are looking to upgrade their quotation generation process. Therefore, as mentioned above, utilizing an ideal quotation management software is the best thing since sliced bread.
But do you puzzle, where to get an eminent quotation management software? iSQUARE is the stopping point that has 7+ years of experience in materializing your ideas into staggering software solutions. Our team of skilled professionals will provide the best tech and customer support to build an astounding quotation software. Therefore, all that is left is to get in touch with our expert team.