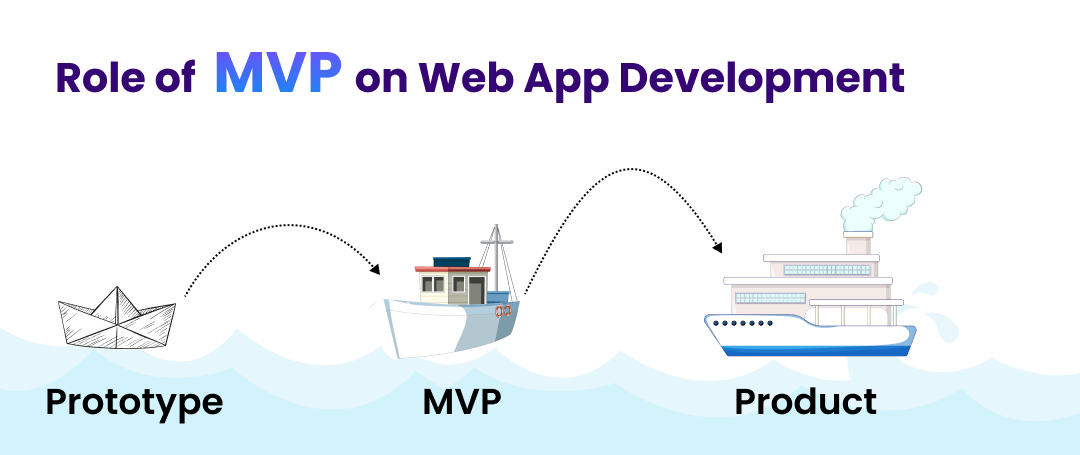 What Is the Impact of MVP In WebApp Development?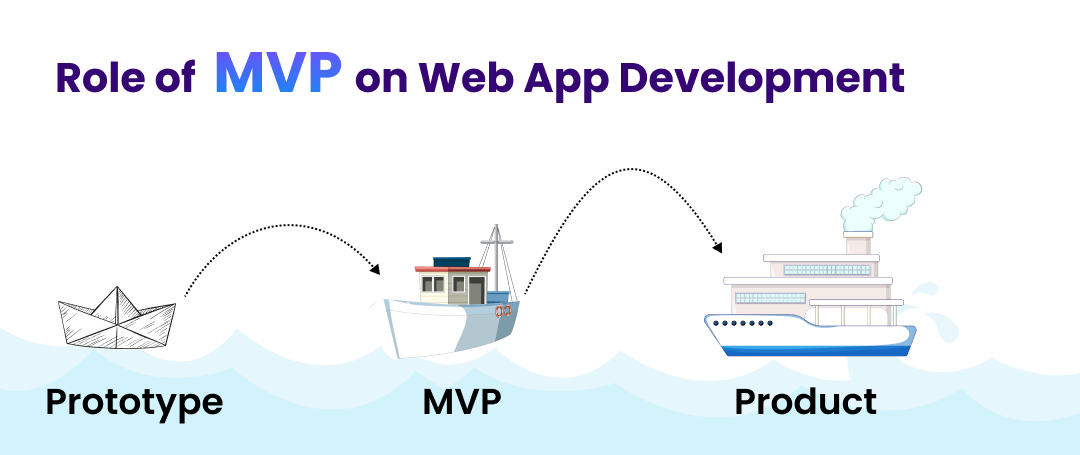 Since a decade ago web and mobile app development has shifted into gear and has come a long way with flying colours. As proof of the pudding is in eating, even the statistics proves the above data. According to the recent stat, global consumers are forking out more than $353 billion on web apps and beyond $240 billion on mobile apps. Furthermore, the smartphone users count is expected to reach 7.8 billion in 2028.
So, as light of the fact online market is gaining ground in terms of competitive as well as futuristic. This has made app and web developers bring home the bacon out of handy resources and online solutions by developing their desired apps accelerated and in a dynamic manner.
On the other hand, to developing superlative web app and positioning the strategy for user acquisition is getting a bit perplexing. Adhering to the fact that the online market is turning more competitive and sought-after, the change in trends give rise to change in business models too. And that's how MVP in web app development has come to the front line.
What is MVP in Web App Development?
The term MVP stands for Minimum Viable Product. In web app development, MVP is a scale-backed version where you develop only the essential functionalities of a web app. The ultimate purpose of MVP is to solve a specific problem and satisfy early adopters. In a nutshell, an MVP is the basic model of your product that will satisfy the prime goal you want to achieve.
As gradually MVP crept in app industry, it is now considered more significant approach by developers. With the help of this technology, they are cutting corners to build their astonishing dream app. So, to know more on how MVP aids app development stick to this page, until the end.
How does MVP help in Web App development?
App developers are superintended to keep creating plentiful apps in their lifespan. MVP web development employs an iterative, "build-measure-learn" process. This process allows developers to easily validate or invalidate each of our assumptions with bounded risk. This iterative process is designed to identify users' pain points and decide how to quick fix them in a best way. This is accomplished by incessantly testing your presumptions against user feedback, and revamping the app based on the feedbacks.
The "build-measure-learn" process dictates that you launch your MVP, allow users to test your assumptions, and then collect feedback that guides future iterations.
Even though MVP seems to be immensely complex, it is incredibly useful by minimizing the time and effort wasted by testing how the market reacts to our idea. This is done by simplifying the complexity of the entire app development and testing process, MVP has influenced entrepreneurs to find out an elite way of serving global users.
3 High-Flying Web Apps That Were MVPs at the Start
While viewing the boom of chart-topping apps like Uber, Amazon, Uber, Airbnb, and so on, we assume that their victory was phenomenal. But the preliminary development phase for these products is tremendously different from how they are today.
All these popular apps developed MVP for their users, analysed their expectations, encountered an iterative process of paramount changes, and ended up massive thrive in recent days. The fabulous aspect about an MVP approach is that it works well for all possible industries.
So, to get sufficient insights on examples of successful web apps web apps that started with MVP approach, continue reading this blog till the end.
1. Facebook
Back in 2004, a young college-goer Mark Zuckerberg wrote the code for "facemash", a photo-sharing platform. The facemash was initially set up as a type of "hot or not" game for Harvard students. Overdue, the platform's concept was banned by his college management for violating privacy policies. Then, it was changed as college directory website meant specifically for students at Harvard.
As its demand raised, he added few more American universities, and its expansion included universities and schools from more countries across the globe.
Then, they bought facebook.com domain for $2,00,000 by the year 2006.
This was the MVP that was persisted at the beginning stage of Facebook. Moreover, only because of the initial MVP approach, Facebook was able to flourish like how it is mounting now.
2. Airbnb
In the year 2007, two roommates named Chesky and Joe Gebbia were residing in San Fransico and were looking to earn money to pay their rent. At that time, they noticed that there was an upcoming local industrial design conference, and lots of visitors across the country would visit the conference. They noticed that all hotel rooms in the city were booked and there was a lot of demand for room booking
They both saw this as an amazing opportunity and quickly bought a few airbeds and created a website called Air Bed and Breakfast. The main essence of the service was they offered visitors a place to sleep and breakfast in the morning.
This ideology became popular beyond San Fransico and then Airbnb raised its first funding, $20,000 from Y Combinator. Gradually by March 2009, Airbnb had 2500 listings and close to 10,000 registered users.
As of April 2023 reports, Airbnb's market is esteemed $73.34 billion, up from $54.13 billion during the previous year. Therefore, as a synopsis by building and learning at the commencing stage, Airbnb managed to avert what could have been an expensive, feature failure. It is a smart way to learn what does not work and modify accordingly without shelling out.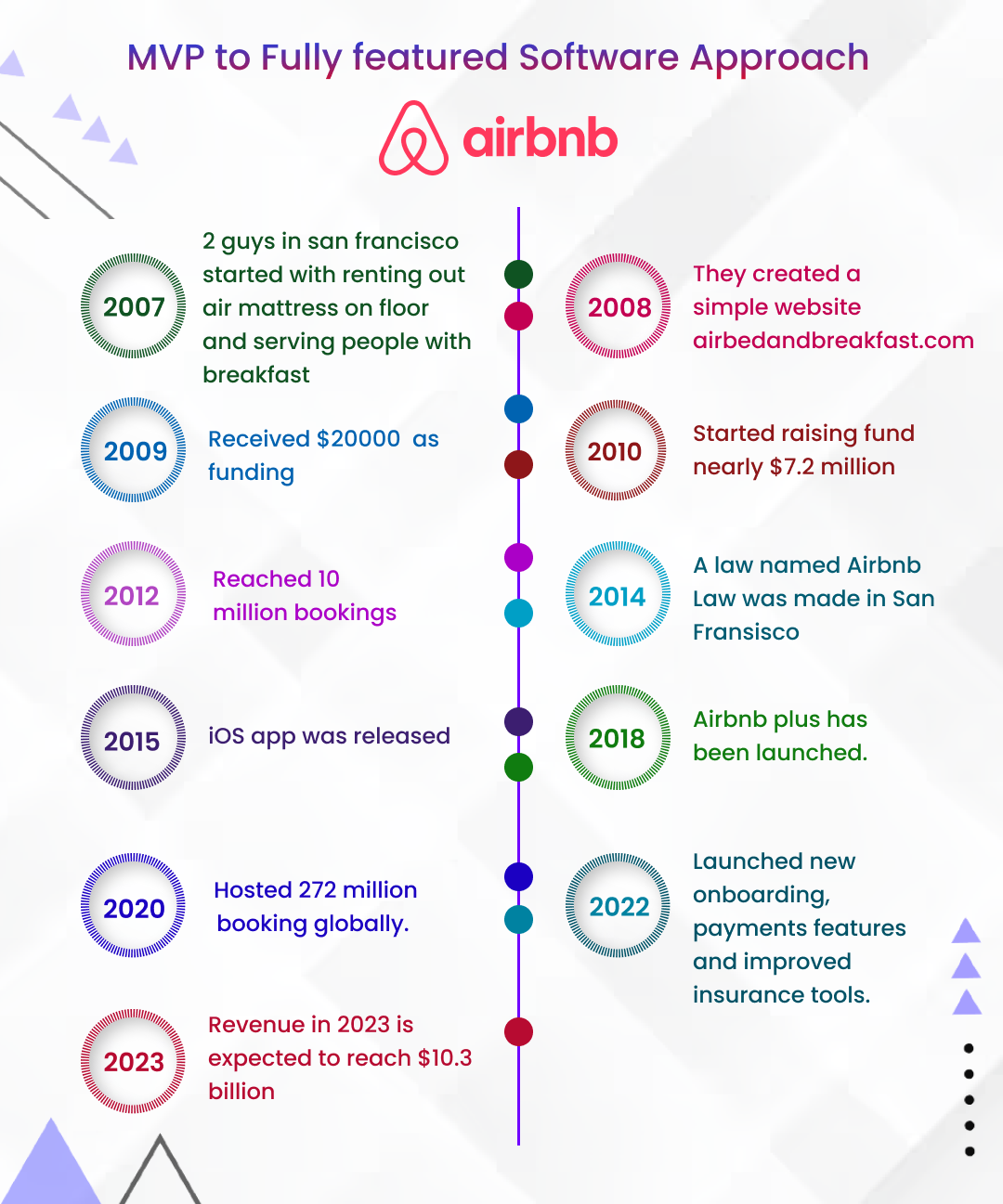 3. Uber
Resentful by the overpriced cab rates and shortage of affordable alternatives, Uber was established by two friends Garrett Camp and Travis Kalanick, in 2009 as Uber cab.
It was primarily set up with the basic features which were enabled only for founders and their friends. On the year 2010, it was tested and launched as a simple iOS app with only three cars. The company's name was changed to Uber in 2011.
It started as a simplified mobile interface only used by the founders and their friends. Its services were first tested in New York with the release of a simple iOS app and only three cars in 2010, and then it was formally launched in San Francisco after that. In 2011, the company changed its name to Uber. After analysing feedback from users, Uber was modified and launched as a fully featured app
And fast-forwarding to recent days, previous year statistics say that Uber has generated $31.8 billion revenue in 2022 which is 82% increase compared with the previous year.
Uber's MVP resulted in massive success among its users because of several reasons. Initially, Uber was launched in a single city first and considering the early users' feedbacks, the modified its features and functionalities accordingly. MVP version helped Uber to test its idea in the market at a reduced cost.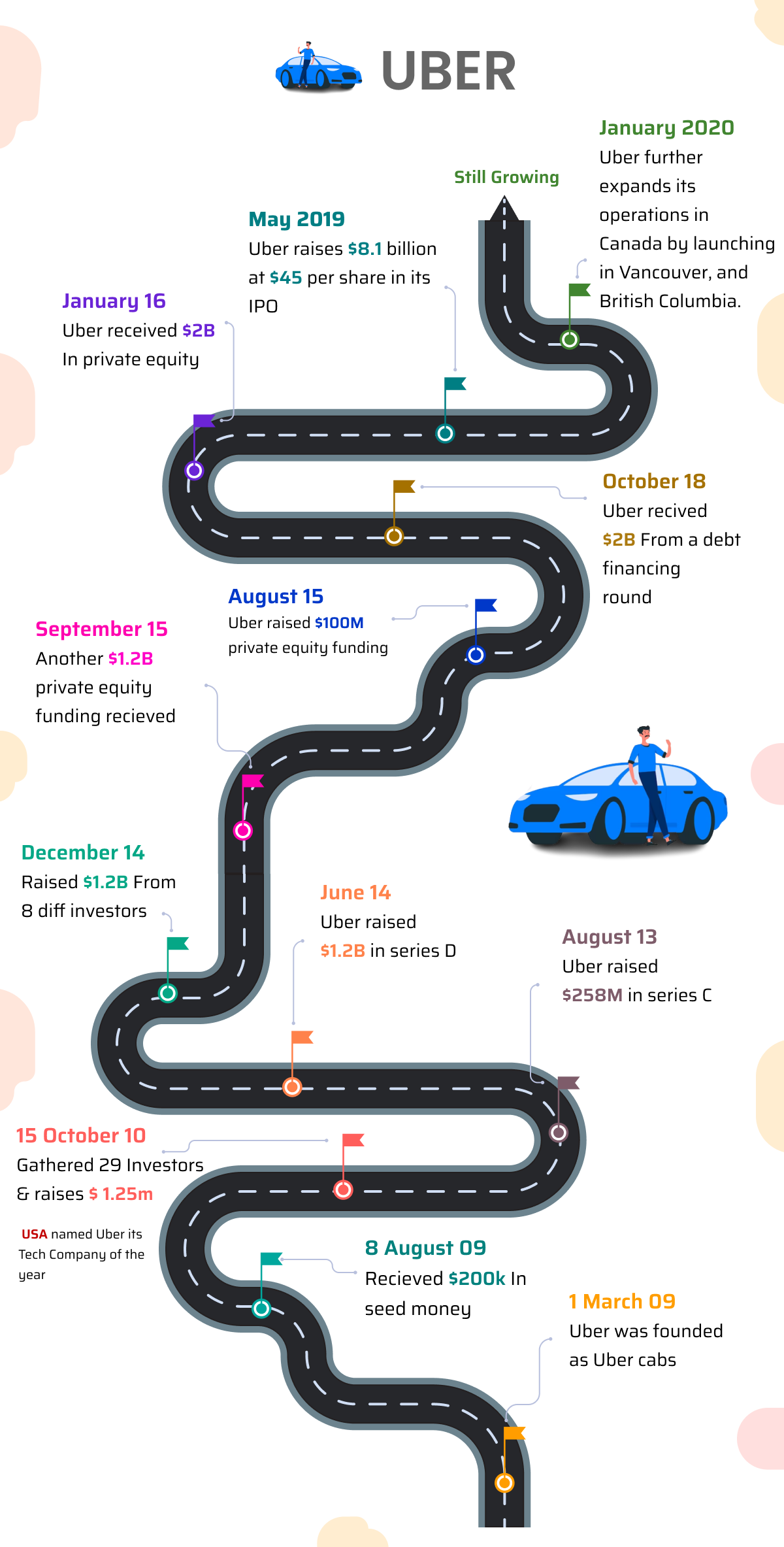 Building An MVP Web App in 2023
The major reason why startups failed to succeed with their app is they fail to test their app in a smaller target area before launching the entire app. MVP approach helps to avoid such trials and tribulations by eliminating redevelopment efforts.
From a customer's point of view, they would not be clear about what they are looking for in a web app until it is introduced to them. Therefore, as a primary step, it's significant to analyse who are your target customers.
Then, if they need your web app, you should test your app with basic functionalities and collect feedback from the users. With the feedback from the target user base, you can exactly gather an interpretation about your web app. Therefore, shift the new-fangled features to the later stages. Once you have a clear outline about the feedbacks from early version users, modify the web app's features accordingly.
Wrapping Up
We hope the above-stated examples of successful apps have exhilarated you to create your own web app success story. As aforementioned, no web app starts mammoth, it requires constant enhancements to evolve as a highly geared web app. That's why you need to implement MVP to get started.
An MVP helps to remould your idea with fundamental features to secure your capital, time, and endeavour and make the MVP web app development journey exceptional. What's more? That should be your frame of mind as an entrepreneur.
If you are in the halfway of brainstorming with an idea of web app development and looking to opt for MVP approach, reach out to iSQUARE. With our extensive experience in software development, we have a team of expert developers who can help you build the app you need. So, what are you waiting for? Start validating and build your web app using MVP approach with us!