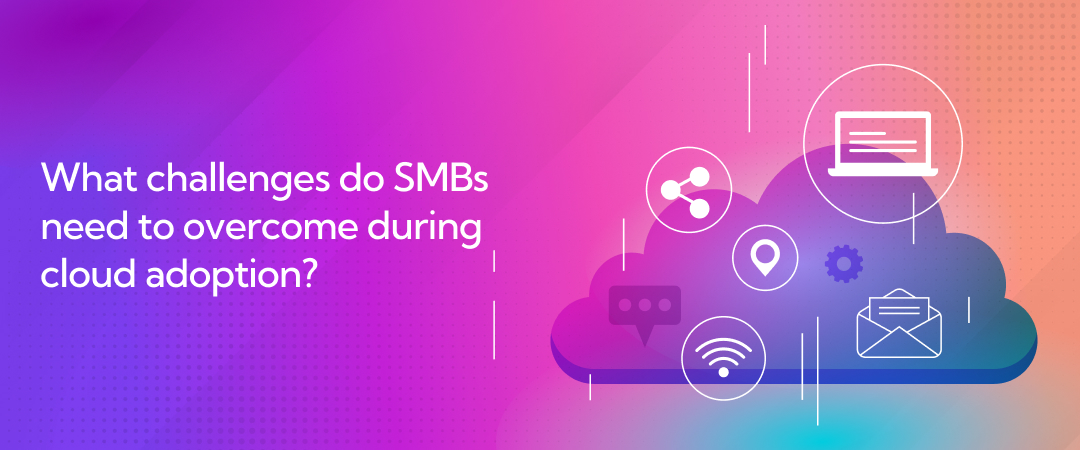 What challenges do SMBs need to overcome during cloud adoption?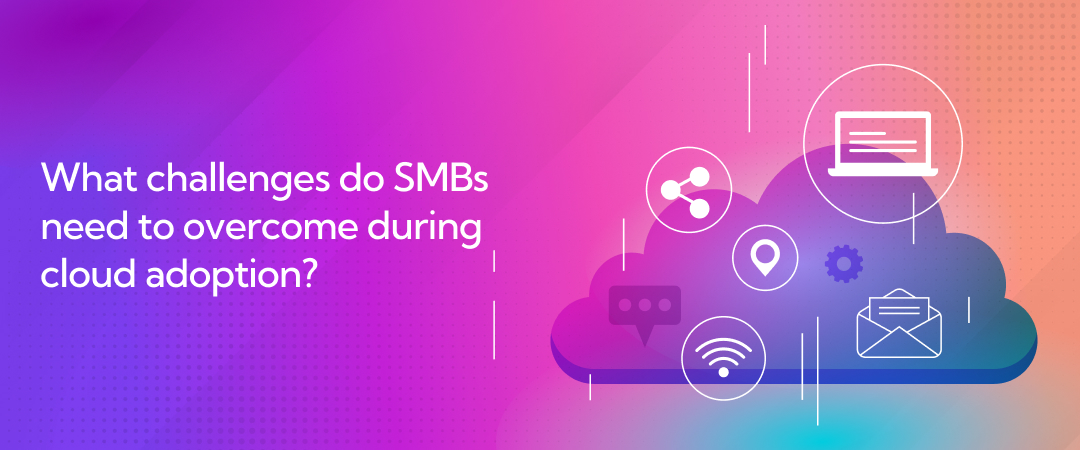 As a factor of production, entrepreneurship is rewarded through Profit. Cloud service solutions are in rage as SMBs find that many problems facing their IT infrastructure are alleviated. SMBs strive to make their venture profitable by various factors viz, augmented revenue, reducing operating costs by phasing their business to the latest innovation.
A few obvious benefits arising through Cloud Adoption are
1) Security
provided guards with the company's confidentiality like a 'new knight in shining armour.
2) Remote access
employees can work with ease from even a sub-Sahara terrain as they have access to data and applications.
3) Latest applications & software
comes as part of the subscription package offered by the vendor.
Elements of Cloud Computing
Before proceeding further, let us discuss in brief the salient features of Cloud Computing namely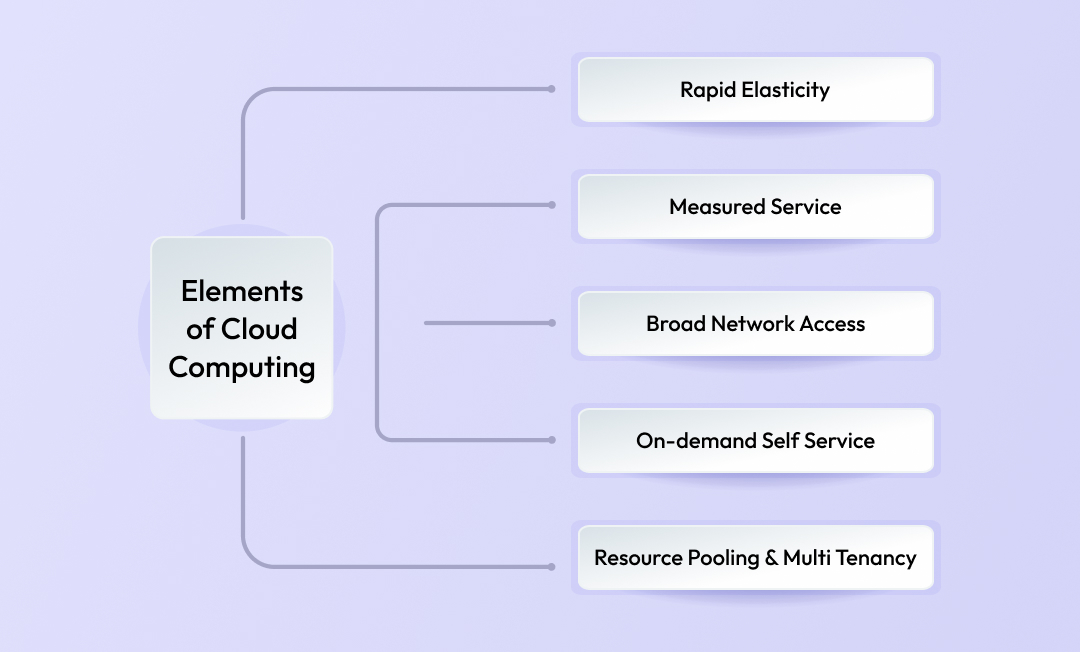 1) On-demand Self Service
It is a web-based self-service management console, eliminating human need. The customer himself can get the required service. For Eg, without a sales person an individual can access the train website and book a ticket on the exact date, time & class.
2) Broad Network Access
The cloud computing network is accessible to diversified devices such as mobile, laptops, tablets & office computers. The authorized user can download or upload data on any device having internet connection. For Eg, a person booking the train ticket irrespective of whether it is a smart phone or laptop.
3) Resource Pooling & Multi Tenancy
Computing services like network, servers, data storage are given access to innumerable customers to share the application without hampering the data security. This is possible through a resource pooling model. For e.g., according to the seat availability, innumerable people book the train ticket on the same date & time.
4) Rapid Elasticity
Resources capabilities can be enlarged or diminished depending upon the demand. The network has the elasticity to synchronize accordingly. For e.g., due festival seasons additional trains plying on the same route to accommodate additional crowds. Once the demand is over, the train stops its service.
5) Measured Service
Resources utilized are monitored and recorded by each service subscriber. The charges vary according to the amount of service utilized the same e.g., of the train passenger charged only for the journey he travels not to the entire distance covered by the train.
Let us now discuss the challenges SMBs face.
1) Fear of security lapses
SMBs work within a limited framework; therefore, there is a perceived notion of how their data can be secured in an unknown destination. If going by percentage an astounding 66% of the IT professionals matter of concern remains security.
On the contrary, gradually shifting towards the Cloud only increases your company's operational efficiency and security. Microsoft Azure cloud platform invests approximately US$ 1 billion in cybersecurity, successfully defending against about seven trillion cyber threats. The same applies to other players in the field, namely Amazon and Google.
Cloud providers not only provide virtual security like intrusion detection systems, data at rest encryption, and firewalls for applications and databases. But they also provide physical security to their locations in the form of security patrols, biometrics security control, round clock monitoring.
2) Deficit of skilled manpower for cloud services
There is an obvious lacuna (gap) between the demand and supply of cloud-skill professionals in the market. While cloud technology has exponential growth, human resources availability is a challenge. The Gartner report confirmed that skilled workers are the most significant challenge. The figures decreased to 4% in 2020 compared to 14% in 2019 due to more people adopting cloud technology.
Without the availability or mediocre skill set many companies who have in their agenda to hoist in the Cloud defer it for a later stage.
3) Inflexible to change vendors
The cost of cloud services is decreasing, and SMBs are struggling to find the right fit. They fear losing their scarce resources to certain factors like
Over-quoting for the vendor because they are not sure of the cloud services trends.
Binding contractually to the same vendor for a fixed period.
Whether the present vendor can scale when there is a surge in demand for their services/products.
Is the vendor able to upgrade the latest applications or upgrade their software regularly?
Will additional service changes not binding to the present vendor and upgrade will cause a dent in their budget?
How to overcome the challenges?
Each technology comes with its own set of handicaps and imperfections. It is natural for SMBs to be skeptical regarding all their company's confidential data hoisted in an unknown location by a service provider. But it does not dissuade its utility value.
As end users and prospective users of the technology, there is always scope for overcoming the hurdles.
We spoke about the challenges, but we must discuss overcoming them and successfully migrating to cloud adoption.
1. Begin either adopting multi-cloud or Hybrid cloud techniques:
SMBs are generally not enthusiastic about giving the unilateral rights of their entire data or platform to a single vendor. To reassure the benefit of cloud computing and adverse risk. There are two ways to deal with it.
a. Multi-cloud technique

SMBs can approach multiple vendors providing the same services instead of depending upon a single vendor. The advantages are

1) Choice of affordable pricing

As there is never a shortage of cloud service providers available in the market. This allows the user to choose a competitive price.

2) Unparalleled security

as all vendors work towards providing lasting security to protect data confidentiality. So, companies can choose the latest firewalls and reputation in the market.

3) Uninterrupted network performance

high speed is required while working in a live environment. There should be auto-backup of the work performed and proper connectivity.

b. A Hybrid technique

In this technique, SMBs can keep their on-premises server or set-up intact and use the Cloud vendor systems correspondingly. The advantages are

1) Choice of storing data

is vested in the hands of the SMBs. They take the decisions depending upon where to keep the data, either in-house or subscriber.

2) Heighten security

irrespective of the place it is stored. It tightens the grip as only a selected few know where confidential data are stored or can be retrieved.

3) Phased conversion

Depending upon the comfort level of the service provider. SMBs can gradually transit their data, servers, and applications to the Cloud. Since the entire process takes effort of time, monetary and human resources, it can be phased at regular intervals.
2. Step-by-step transition techniques
Migrating all data, applications, and servers in one phase is exhausting and risky. It takes some time and effort to coordinate the cloud service servers or applications with the present set-up of the SMBs IT infrastructure. Prudence remains in following a step-by-step transition by starting with less significant data either it can be your Email data storage or ERP enterprise resource planning) and so forth.
Once you gain confidence with the success rate of the hoisted data in the cloud ecosystem, migrating the rest becomes easier. The types of models are
A public cloud model – has the layout to include many subscribers to gain access to the services.
A private cloud model – has exclusive rights reserved for a single company or a conglomerate.
A hybrid cloud model gives access to public and private domains depending on the subscribers' needs.
With the available scope, SMBs can select from the available model depending on their requirements.
3. In-house training
Cloud computing service is happening, and SMBs cannot defer their migration. It is a matter of time and speculation of when to do the transition honors. An added way forward is to train your IT staff with the basic knowledge of the Cloud.
Forming an in-house training center by identifying their skill sets. With their expertise, it is possible to select the apt model for the business and implement a strategy to proceed further. Depending upon their requirement, they can also hire additional staff if they are in a position to 'loosen their purse strings'.
4. Financial data security
Firms are apprehensive about their financial data security. Reputed cloud providers invest a significant amount on preventing any form of infringement to the data privacy of their clients. Advanced technology is deployed to make it convenient for all users. It is a matter of time and awareness to make firms phase them to cloud. Some data security offers are
Data Protection & Encryption
Network & Infrastructure Security
Logging & access control
Host & endpoint security
Vulnerability & configurability analysis
Application security
How does iSQUARE help to make a smooth transition to the Cloud?
One of our highlights is promoting and serving remote access to various applications, servers, and hardware. Our mission is not servicing a privileged section of entrepreneurs. Organizations of multi-size, multi-product, multi-geographical tag get equal facilities from our cloud computing services.
With close to a decade experience, and ISO 20007 certification, our clients get
Benefits of cloud agnostic solutions
Impregnable application, data, infra security
Reasonably priced and easy to deploy solutions
With more features favoring your company to function smoothly, contact us to discuss more.