How ERP Software Enhances Businesses Across Various Industries?
Running a business isn't easy. It's freaking fierce. Especially when you must maintain each data manually right from operations to accounts. This is why most entrepreneurs struggle to gain needle-moving profit for their businesses.
Does it sound like you? You're in the right place.
In this blog, we'll show you how ERP revolutionizes different business sectors in simplifying their business operations.
You'll get to know the perks of using ERP in different sectors that are easy-peasy to replicate to your business, which in turn improves the efficiency and productivity of your business.
Don't believe us? Hold your horses and stick with us throughout this blog. This blog illustrates the benefits of ERP systems across different industries.
But diving into the topic, let's clear something up.
What is ERP?
Enterprise resource planning (ERP) refers to a type of software system that helps to run your entire business by supporting automation and managing core business processes in diversified areas. ERP software not only manages your day-to-day business activities but also eliminates data duplication and ensures data integrity that eliminates manual errors.
1. Manufacturing Industry
From ancient times, the manufacturing industry is serving as the backbone of the economy. ERP acts as a supreme tool for piling all transaction data from every nook and corner of the business and converting it into financial projections and other insights.
Due to fierce competition and the increase in demand of customers, every industry goes through a lot of challenges in meeting their business objectives. With the help of ERP software, businesses can organize their entire manufacturing functions right from placing orders to dispatching it under a single platform.
Role of ERP in manufacturing industries
1. Real-time access to information
By implementing ERP in manufacturing, the manufacturing industry can gain access to view the business information and workflow of the unit 24*7 irrespective of geographical location, and timing.
2. Improves communication
Manufacturing ERP software helps to enhance communication and coordinate with vendors, suppliers, and distributors. Also, it eliminates the mistakes that might occur due to a lack of communication.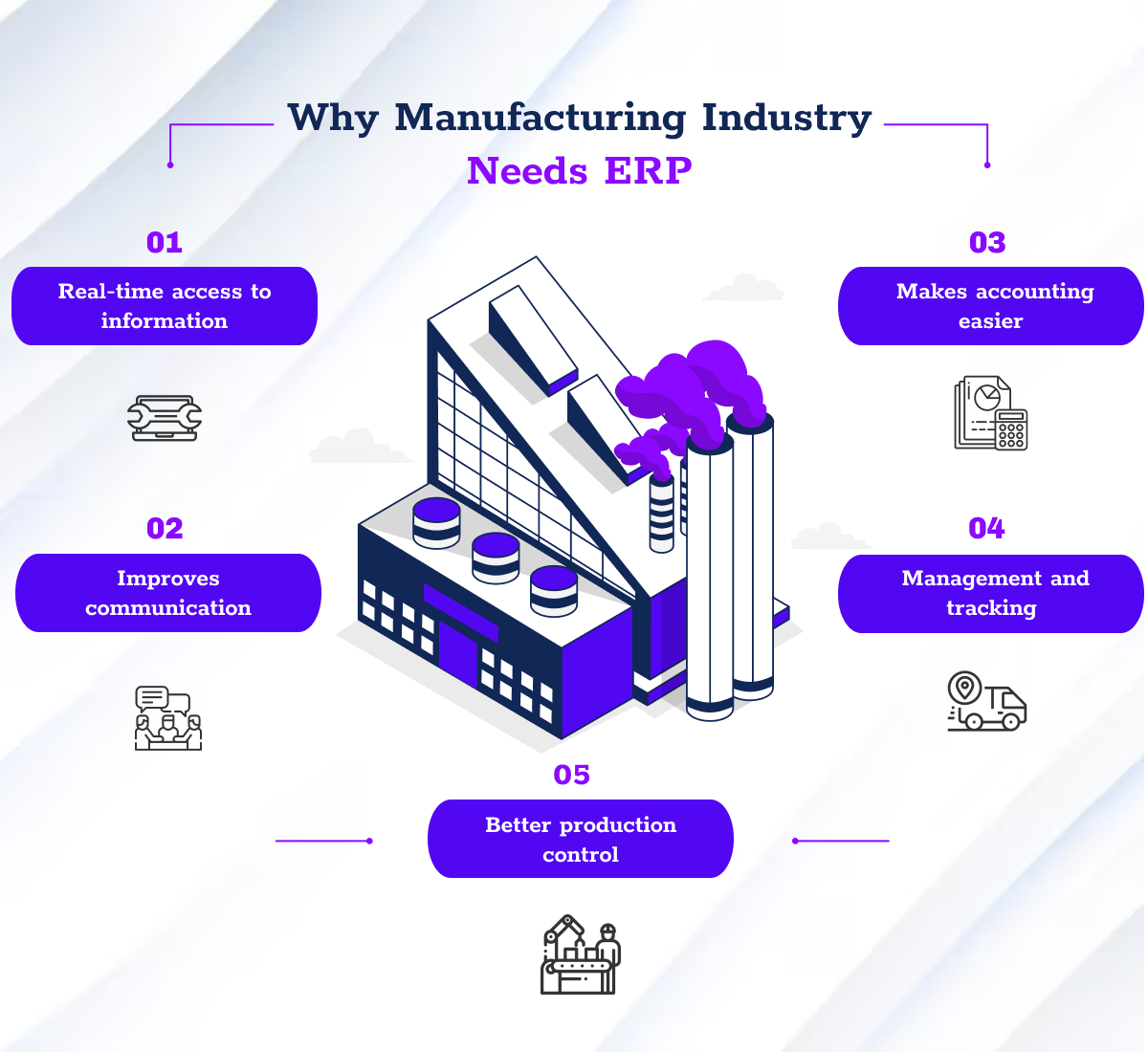 3. Make accounting easier
Unlike maintaining manual accounting data, ERP plays an indispensable role in saving time and reducing manual work, which in turn results in obtaining the utmost accurate data and zero manual errors.
4. Improved Inventory Management and tracking
With well-designed ERP software, companies can streamline production processes, track the delivery of inventories, and synchronize distribution channels.
5. Better production control
ERP for the manufacturing industry comes along with Master Production Scheduling (MPS). MPS is an overview of a production plan that focuses on processing orders from forecasting to planning.
2. Healthcare Sector
In the healthcare industry, a centralized ERP plays a vital role in enhancing the core business process and the quality of patient care. Despite other competitive advantages provided by the healthcare sector; it is still essential to streamline a systematic process to amplify the business process.
Role of ERP in healthcare sector
1. Effortless maintenance of medical records
Maintaining patients' medical records and their appointment records is a significant piece of information in the healthcare industry. A multifunctional ERP system simplifies the process of managing and maintaining medical records seamlessly.
2. Improved Patient Care
With an easily accessible system to obtain patient information, healthcare providers can view detailed patient history and can provide treatment accordingly. This in turn results in enhanced patient care.
3. Systemized Healthcare Process
A robust ERP healthcare software not only fosters the creation of a structured healthcare process within the department but also supports effectively managing work across various departments.
4. Patient Safety and Confidentiality
In the healthcare industry, the confidentiality of patient records and medical records is a very crucial part. With an efficient ERP system, patients' records and medical reports can be safeguarded behind closed doors.
3. Education Sector
The biggest challenge that education industries face is collecting, analysing, and processing tons of data across various functions right from the admission to attendance maintenance.
Many educational institutes have already upgraded their operations efficiently with a comprehensive ERP software solution. Curious to know how ERP helps to enhance the efficiency of educational institutes? Then, continue scrolling.
Role of ERP in Educational Institutes
1. Admission Process
A good ERP solution streamlines the admission process by providing all significant details on a single page. This helps to view essential information instantly with a single click.
2. Attendance Management
Education sectors can extensively save time by automatically managing attendance records of students and teachers and can eventually track their total leave days and leave approvals.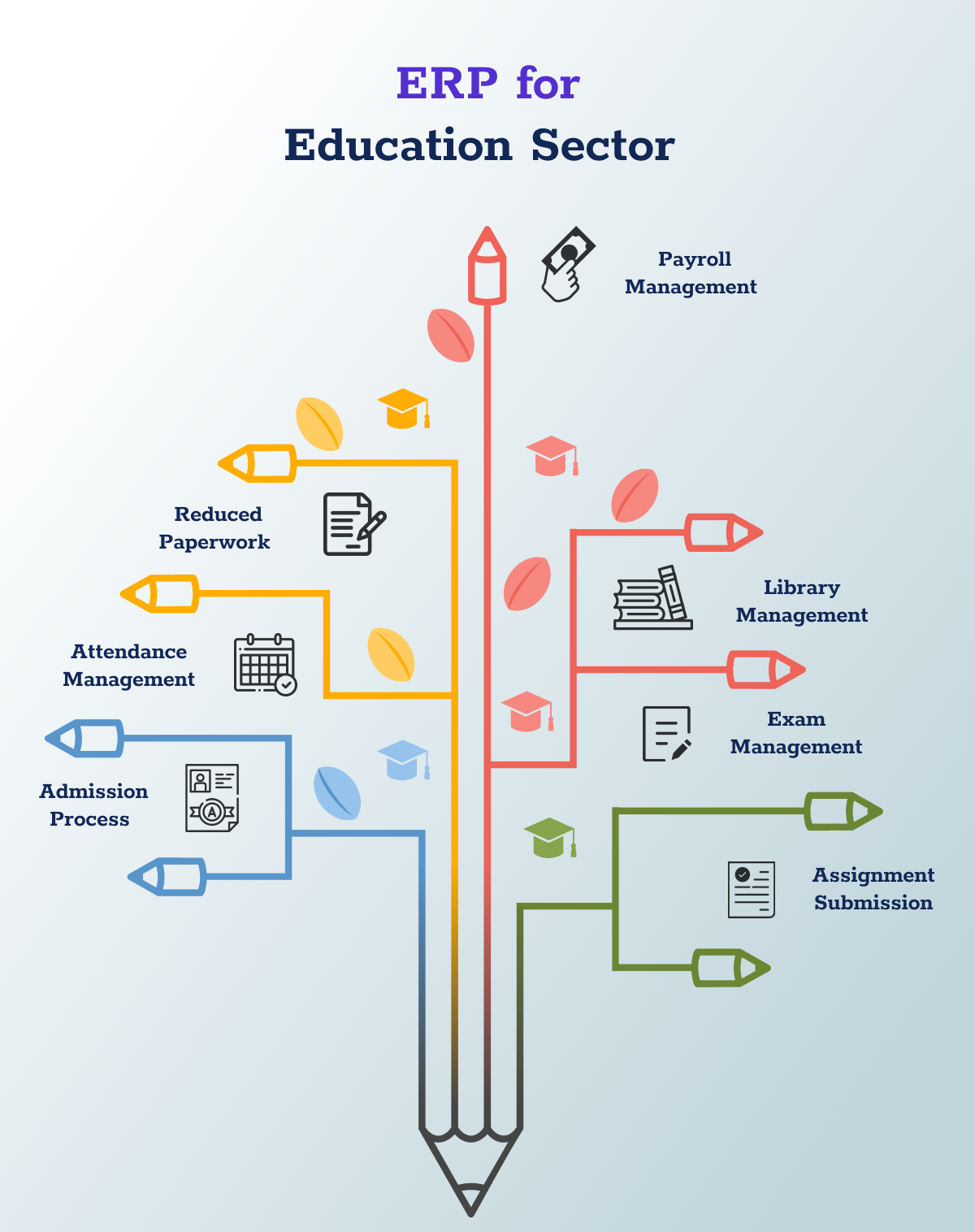 3. Automated Fee Payments
Managing and following up on fee payments is the lifeblood of every educational institution. With exceptional ERP software, they can productively manage the entire fee payment and follow-up process.
4. Students/ Teachers Portal
Educational institutes can create a separate portal for teachers, and students to track their activities. Besides, students can receive instant update information/ announcements, update results, download notes/eBooks, and so on.
4. Retail Industry
With cut-throat competition and struggling to cope with trends, retail industries are facing enormous challenges to generate revenue. Besides, handling customer data and inventory data becomes a burdensome task when your business is towards the growth stage.
With feature-packed ERP software, retailers can effectively manage an organization-wide operation that gradually enhances the business margin.
Role of ERP in the Retail Sector
1. Customer Management
ERP software helps to gather and store customer information which helps to identify their purchase data, buying patterns, and customers' contact details.
2. Better Inventory Management
Inventory management is the chief function for every retail business. A superlative ERP software helps retailers to manage their inventories expeditiously.
3. Effective Finance Management
Inventory management is the chief function of every retail business. Superlative ERP software helps retailers to manage their inventories expeditiously.
4. Supply Chain Management
Supply chain management is one of the significant functions in the retail sector that helps businesses for smooth operations. A complete retail ERP solution takes care of the different steps involved in the supply chain process.
Here is a video that features our workflow on how we helped our esteemed client "Zamzam sweets" to enhance their business operations with a comprehensive ERP solution.
Take Away
The above-mentioned approaches related to applications of ERP software for different business sectors aren't new or exciting. But they create magic in transforming your business and that's what counts.
Focus on rationalizing your business and let the ERP software guide you to refine your business operations. So, after more troublesome years of your business getting more even keel, opting for an ERP system bestows multiple benefits in skyrocketing your business success.
Do the above-stated benefits of ERP software provoked your entrepreneurial mindset to build one such astounding software for your business too? Then, iSQUARE is the perfect destination to land. With an ideal software development partner like iSQUARE, you can build customized ERP software that accurately suits your business model and requirement.