Custom Website vs Template Website: Which is Right for Your Business?
We are not living in the timeworn age but in the technological age. With the rapidly thriving digital universe, businesses are reforming the way people learn about their brands. Therefore, if you are a business owner, building a feature-packed website has become your bread and butter to come off with flying colours in your business
Website development is becoming more competitive with each day passing. Moreover, according to a recent stat by Internet Live Stats, there are over 1.5 billion websites on the world wide web (www) today.
Furthermore, as a point of fact, websites for a business are influencing the target customers to create reliability and loyalty. On the grounds of this entrepreneurs are now more aware of utilizing the trend of website development.
Hence, the question is no longer whether businesses should invest in website development or not. Instead, the ambiguity is whether you should go for a custom-based website or a template-based website.
For that, it is essential to learn the ropes about detailed insights on custom websites as well as template websites. So, continue reading this blog to get a clear picture on choosing between tailor-made and template websites.
What is a Customized Website?
A custom website refers to the process of developing your website from scratch. It is a tailor-made online solution which is tailor-made to suit your business needs. The custom-built website helps to gain a strong competitive edge in your niche.
Why Do You Need a Custom Website?
1. Making a Great First Impression
In this digitally bound environment, the website is the key aspect that serves as a gateway to creating a first impression to your target audience. No one trusts your brand if your website is not appealing and creative. So, to stand out from the crowd and to build reliability, your website has to be unique and attractive
2. Eliminate Unnecessary Features
While building a website using a template, you'll have to stick with a specific format. Moreover, you might get certain features that you might not need.
In this case, you'll not only be paying for the uncalled features but also there are chances of increasing your website size. As a result, a website with a large file size will directly impact the loading time of your website.
That's why it is an ideal choice to build a website from scratch. When you go for a personalized website, you can precisely design features and functionalities of your website as per your business needs.
3. Flexibility to Design as Per your need
Remember one thing, your target users visit your website through various platforms. So, when you build a website, it is crucial to ensure that your website works seamlessly in all mediums such as mobile, desktop, or tablet. And, if you are building a customized website, you can optimize the website according to specific platforms.
4. Branding
While building a website, you must keep in mind about branding as well. If your target customers visit your website among a plethora of websites available on the internet, you should have a Unique Selling Proportion (USP).
When they visit your website, you should have something special about your brand to convince them. It is not only about content, or image, but also includes various factors such as colour patterns, background, themes, simple yet alluring design patterns, and so on. And, with a customized website, you give a huge focus on the above-mentioned aspects without having to be stocked with pre-built patterns.
5. Security & Speed
The major challenge with building a website using templates is security threats. As many of the template websites are hosted under the same server, there is a higher risk that your website is prone to security threats. Moreover, if one page is prone to security threats, the entire platform would be vulnerable to the same security threat
6. Competitors Will Find It Harder to Copy
When you build your website from scratch, it not only makes your site look unique but also makes it hard for competitors to replicate your website. And in the case of a template website, there are higher chances that your competitors can copy your website which in turn reduces the uniqueness of your website.
Having a competitive advantage over them will make you even more of a target. However, a unique website is difficult to copy. Even if they try to imitate everything, they won't be able to do it with every single component that sets you apart.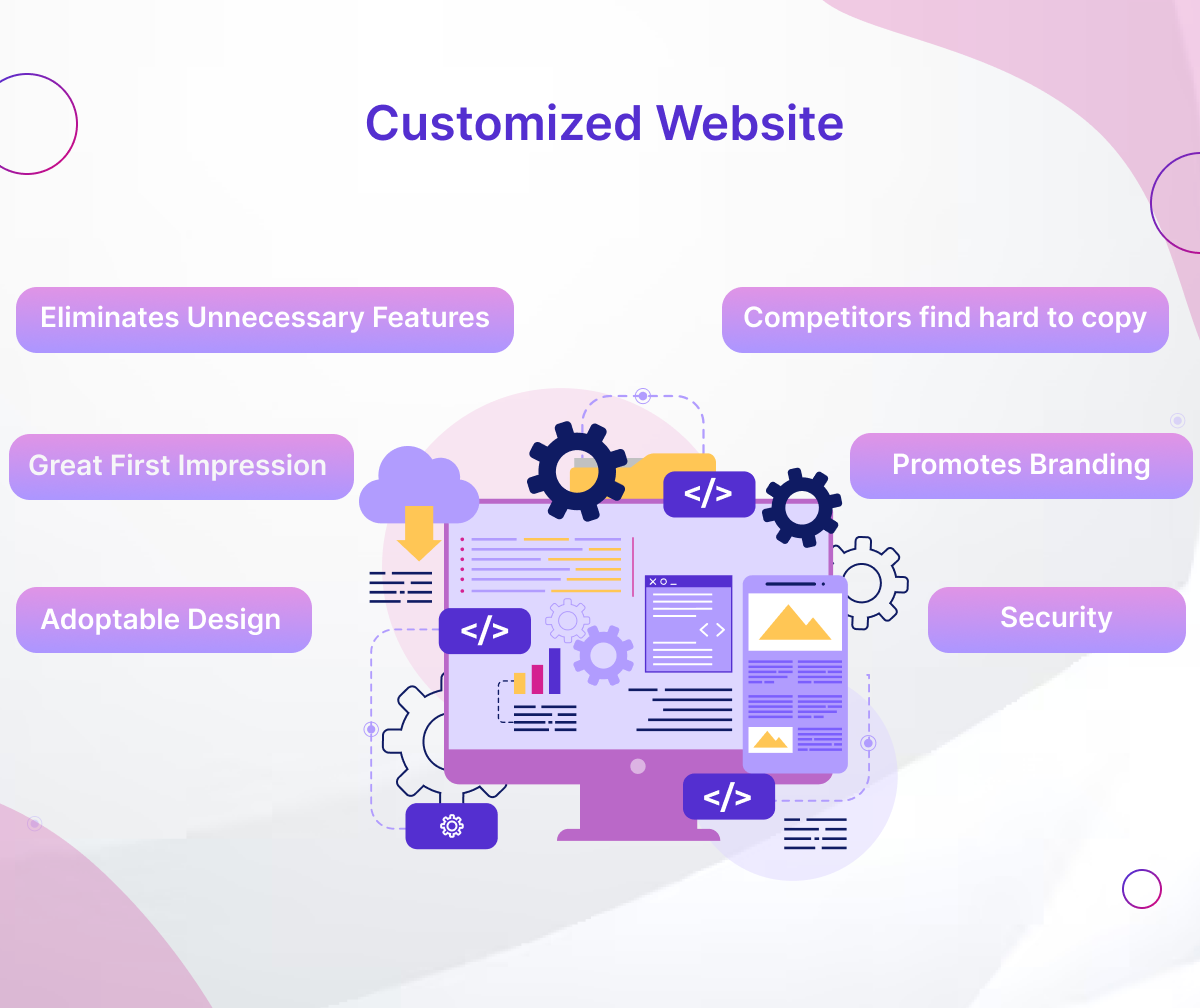 What is Template Website?
Template website is a predesigned layout which helps you to line up your website quickly and add content in the pre-built format. With a template website, you can instantly build a feature-packed website according to your business needs.
Why Do You Need a Template Website?
1. Easy Setup
As a template website is pre-built with basic features and functionalities, it is easy to set up a website. Besides, you don't need a tech-savvy experience to build and maintain the website.
2. Saves Time
With a template website, you can extensively save time by building an entire website from scratch. As it is already coded with web design templates, you can launch your website with superlative content in no time
3. Suitable Functionality
When you choose a template website, you need not have to spend time in thinking about the features and functionalities required in your website. You can quickly choose from available templates which suit your business needs.
4. Saves Money
By choosing a template website, you can considerably save money by building a website from zero. Even if you wish to build a website on your own, it is as easy as pie that you can build it effortlessly
5. Lots of Choices
As template websites are loaded with a wide range of choices, you don't have to guess how it looks. You can explore each template which comes with a dummy content. By viewing every template, you can get a clear picture on how your website must appear and you can choose the appropriate format accordingly.
6. Easy updates
Template websites are more convenient to integrate and upgrade when required. Like CMS, the template website is gat to add content, including photos, videos, articles, and FAQ sections according to your preference.
7. Built-in-SEO
It is well-known that SEO is the basic piece of work after creating a website. When you go for a template website, you can gain an advantage of opting for a readily built website which comes with integrated SEO features.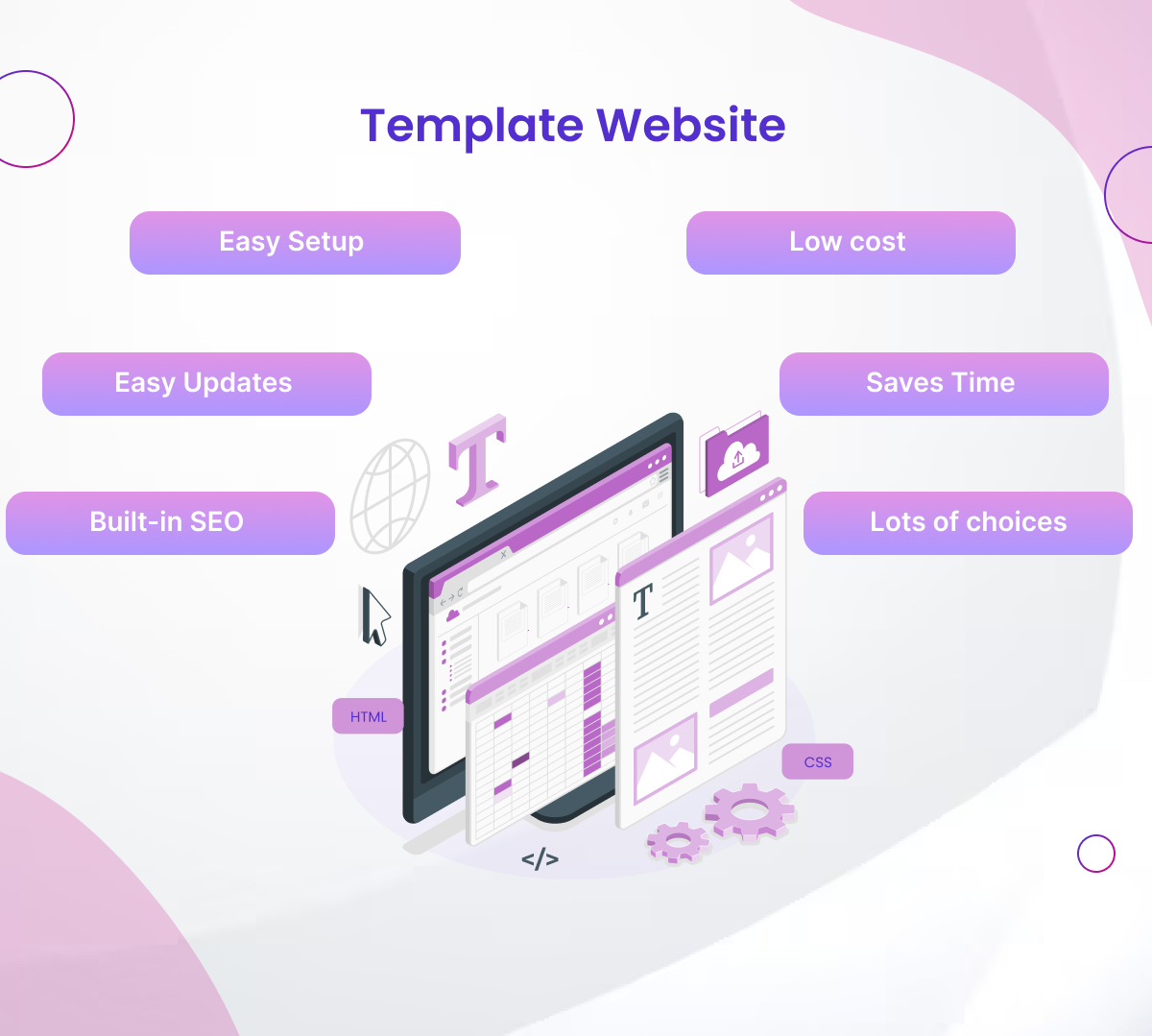 Personalized Website Vs Template Website: How it Differs?
| | | |
| --- | --- | --- |
| Comparision | Customized Website | Template Website |
| Security | With efficient security practices, the website ensures enhanced security. | As it is dependent on third-party data, the site might be vulnerable to security threat. |
| Adaptability | Adding new features in personalized website is just a cakewalk. | At times, template-based website might not support to add new features. |
| Development time | It takes a minimum of 3 days to build a website from scratch. | You can create a website instantly as it is already pre-built. |
| Cost of development | Cost of building from scratch is a bit high comparatively. | The cost of building template-based website is very economical. |
| Uniqueness | Customized website can gain competitive edge with its uniqueness and creativity. | Template based website might have lesser chances of creating unique designs. |
What to Choose Finally: Custom Website or Template Website?
Reading the above sections, you might have gained a deep understanding of customized websites and template websites. Yet are you puzzled about what kind of website you should choose for your website? Well, you've reached the landing point.
If you are looking to target a small range of audience and expect limited traffic to your business, then you need not have to build a website from scratch. So, if you are an entrepreneur who is running a small business with a limited budget, then choosing a template website will be an ideal choice.
If you are an emerging business with a target of bringing higher traffic to your website and having sufficient funds to invest, then it is a great choice to build a customized website from scratch.
In a nutshell, a personalized website would be a suitable choice for entrepreneurs who focus more on marketing and branding with big plans for growth. Whereas if you are a startup business with limited plans and looking for a website with basic attributes, then opting for template websites is a perfect solution.
Take Away
We hope you would have gained detailed insights on what kind of website to choose for your business. So, make the best out of this new trend by reaching an established website development company to build a feature-packed website. Yet there is one final question that we haven't answered yet. "Which is the best website development company?"
iSQUARE is a prominent website development company that has 7+ years of experience in materializing the website development ideas of many young business minds like you. Our professional team of developers help you with exceptional support and guidance throughout your project. Visit our website to know a lot more about the wide range of digital services we offer. Wish you a good to come off with flying colours in your digital venture!