Decoding UI/UX Design Psychology to Understand Users' Behaviour
What would be your exact feeling when you use an app that keeps glitching frequently and is loaded with congested features?
You would be much annoyed, you'll be less likely to use that app again, right?
This is where the role of UI and UX design plays a significant role in the process of app development. In this fast-pacing digital world, everybody wants to experience state-of-the-art technology without spending much time and exhausting the users' busy brains.
Therefore, from a business point of view, it is crucial to cornerstone the users' satisfaction to enhance your reliability and brand value. Hence, to create an amazing user experience with perfectly built UI and UX designs, we must observe our target audience and try to identify the motives behind their activities. Figuring out the basic psychological principles that influence users' behaviour helps you to design your app specification.
So, to achieve in building a user-friendly app with exceptional UI and UX design, you need to gain insights into users' psychology behind UI/UX design. But before swooping straight away into the topic, let's discuss the basic aspects like What is UI and UX, and how they differ from each other.
What is UI?
UI is an acronym for User Interface which is a process that mainly focuses on the visual elements of a website or an app that enables users to interact with the app/ website's features, content, or functionality.
Examples of User Interface:
Input Controls:
Checkboxes, dropdown lists, toggles, and text fields.
Navigational Functions:
Breadcrumb, slider, search field, tags, icons.
What is UX?
UX is an acronym for User Experience which is a process which targets on appearance, feel, and interactivity of software. It plays a significant role in creating a first impression of our app and branding.
Examples of UX Design
Visual design
Colors
Layout
Typography
How Can UI/UX Design Drive Growth in Your Business?
With the rise of design-driven trends everywhere, spectacular UI/UX designs play a significant role in elevating brand recognition. As a result, it fascinates and attracts more leads which results in conversion. If you are looking for real-time proof, then here are some interesting statistics.
62 % of people who have a negative mobile app experience are 62% less likely to purchase from that brand in the future than if they have a positive experience.
According to Hubspot, 38% of users will not engage if your app's design or layout is unattractive.
Based on a survey on Statista, 57% of users said they would not recommend a business with a bad mobile app design.
Hence, the above-mentioned statistics have clearly shown the significance of better UI/UX design for a mobile app. So, without any further delay, let's explore detailed insights about UI/UX design psychology.
What are the 3 basic stages of UI/UX design?
Mood boards
It is an innovative collage that arranges images, materials, text, and other design elements into a format to communicate ideas visually.
Visual Design
Visual design represents elements of design that incorporate aspects like photographs, text, space, colours, layouts, typography, and so on.
Dynamic Prototyping
Prototyping is an early phase of UI development where the design team helps in visualizing paper ideas into digital versions.
Understand the Design Psychology Behind User Journeys
1. Color Psychology
Color psychology in UX plays a crucial role in creating UI elements like button design, navigation, and CTAs. An aesthetic color palette can elevate a design from good to great, while a typical color palette can create a negative user experience and influences brand recognition. Each color holds a different meaning that differs based on culture, business type, gender, emotion, age type, and many more. Therefore, it is extremely important to analyse and choose color scrupulously while designing your app or website.
As color plays a key role in marketing your brand, make sure to have a standardized color palette for your app to represent your brand. When it comes to popular brands, the white and red color combination play button always reminds us of the logo of YouTube. Meanwhile, the combo of the deep green and white color is associated with Starbucks. And that's why, it is essential to pay heed to finalising color selection and combination according to the dynamic design trends.
Also Read: 10 Best UX/UI Design Tools You Need to Try Now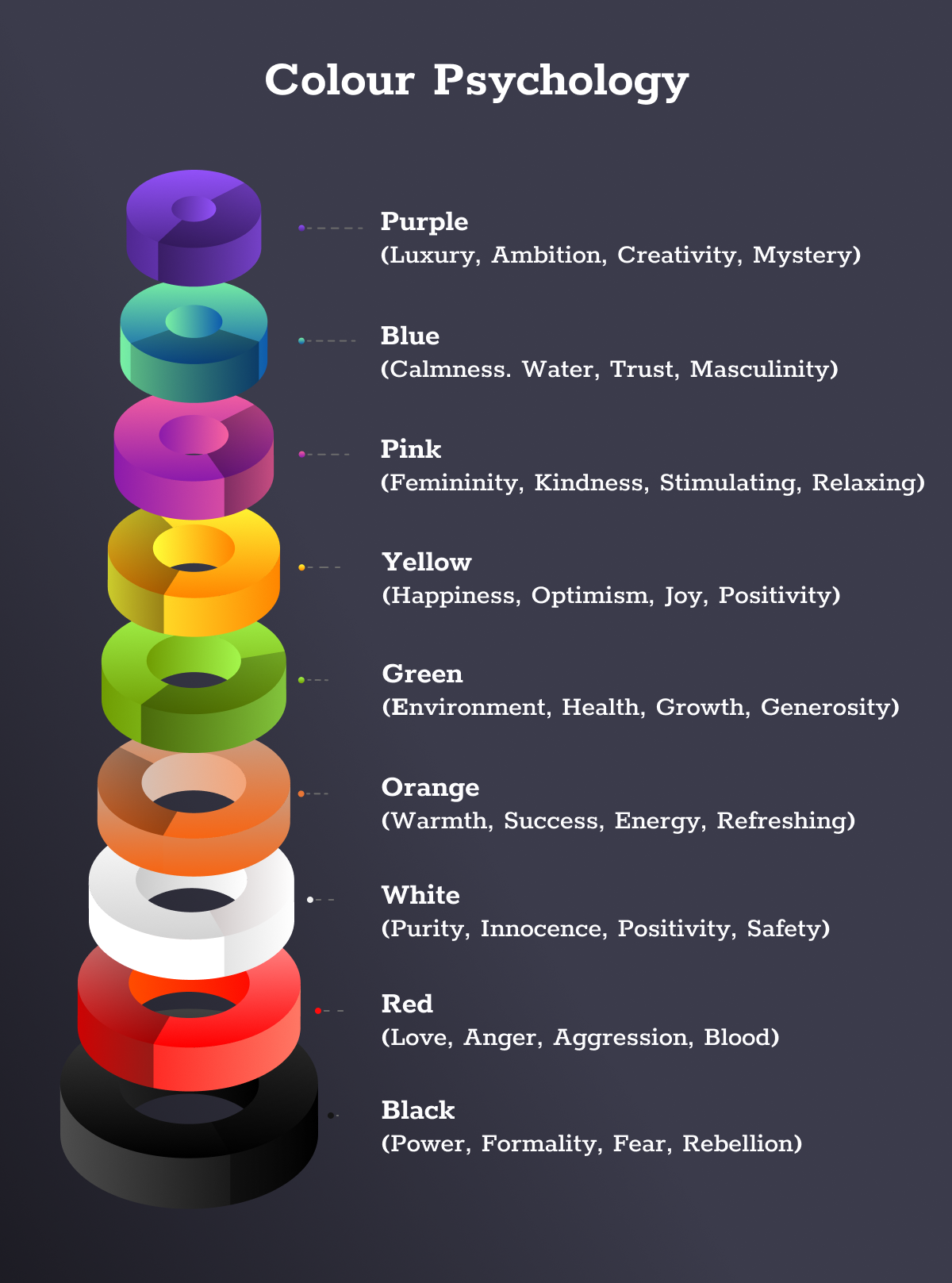 2. Font Psychology
Next to the colors, fonts and typographic styles make a key impact on influencing viewers' thoughts, emotions and behaviour. As a result, the typography and font styles affect human decisions on how they interact with an app or website. The precise typography can convey emotion and sparks users to take action on your software application. Over and above that, font with certain personalities persuades how users feel about your brand. So, it is equally important to conscientiously craft the font of your software. As aforestated, the font style is closely associated with emotion and represents the brand message.
The well-chosen font choice can elevate the visual look of your brand can convey your brand message stronger. Light font-weight is usually associated with emotion that indicates calm and softness due to its shallow look. Medium font-weight exhibits a readable glance which is not too slim or too bold. This font style provides a clear and crisp look to your design. Bold font-weight is an appropriate choice for titles or headlines as they are designed for grabbing the viewers' attention and delivering a powerful message.
3. Emotional Psychology
Emotional design is an inevitable aspect to create a design that evokes emotions which results in positive user experiences. Designers aim to reach users on three cognitive levels.
It is essential to address three levels of cognitive responses while designing:
Visceral
The gut reaction of users while viewing a design. It is the reaction of how users feel when they see the design at first impression.
Behavioural
It is a way how users perceive your design and interact with your app. It is a stage that indicates the behavioural pattern of users.
Reflective
This is the final stage where users come to a conclusive opinion about the design. This stage determines the emotional level of users after understanding the design.
When it comes to designing your app or website, we need to satisfy all three cognitive levels to form an emotional, and long-lasting bond with your target audience. On top of that, to build a positive emotional engagement, it is the crux to create a friendly presence in your design.
4. Shapes and Elements Psychology
In our daily lives, we visualize and remember all objects in terms of shape. For instance, we draw an image of a house with a base of a rectangle shape with a triangle on the top and a sun represented in a circle shape. A recent study claims that each shape indicates unique values and creates distinctive perspectives in our minds. And it is the same point when it comes to designing your app or website. Through the usage of relevant shapes and elements, designers can grab users' attention and help them navigate easily. So, it is paramount to analyse and choose suitable fonts according to the design layout and concept.
Each shape conveys different meanings and emotions and influences user behaviour. Circle denotes the feeling of security, openness and community, whereas the triangle represents creating a focus and direction towards a specific point. Shapes like pentagons, hexagons, and octagons are found prevalent in honeycombs to shell patterns. It can be used to represent a modern, organized and well-designed proposal pattern which can be used in websites as well as business proposals.
Conclusion
We hope our bird's view of UI/UX design psychology would have given you an accurate picture of understanding users' behaviour. As I've mentioned earlier, UI/UX is determining the success of your app or website. That's why it is essential to provide an exceptional user experience to accomplish success in your digital journey. For that, all you need to do is reach eminent UI and UX design service providers in the market.
From ideas to building intuitive interfaces, iSQUARE helps you to visualize your dream designs. Our creative designers possess sound experience in converting your design conception into a creative concept with phenomenal designs. At iSQUARE Business Solution, we ensure to provide a tailor-made design that fits your app or website. Also, we go the extra mile to understand your business need and provide an exquisite design. So, without a second thought, connect with us to commence a colourful design journey with us!