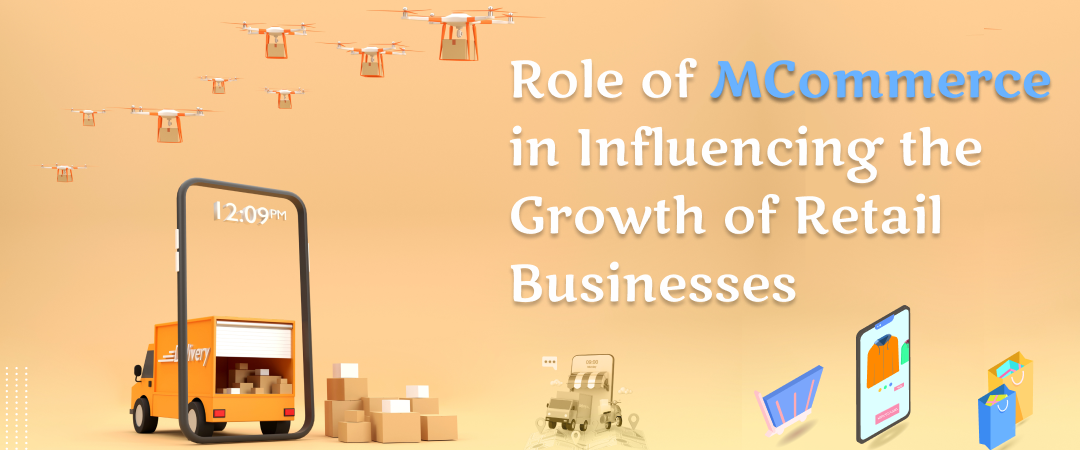 How MCommerce is Refining the Revenue of Retail Businesses?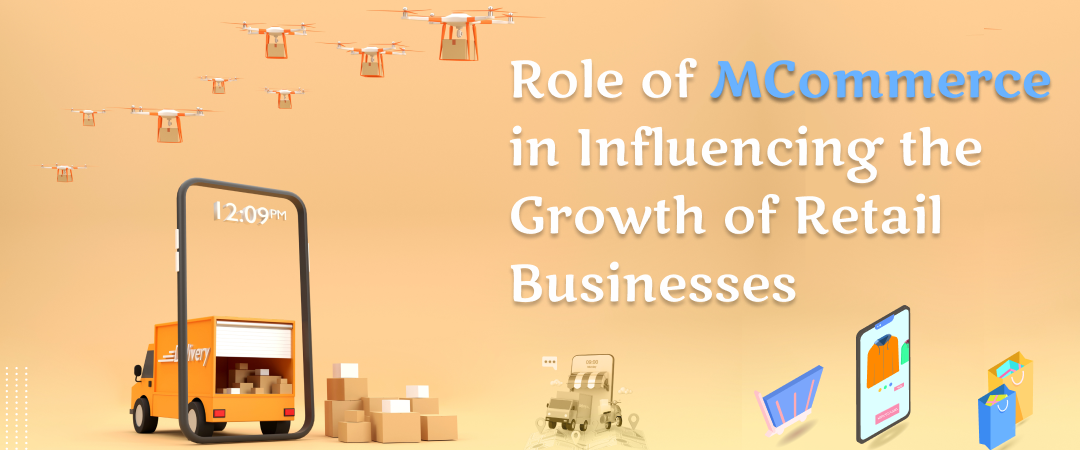 The world has been seeing massive growth and updates, and certain advancements were incredible at times. One such innovation that has changed the workflow of traditional businesses is M-commerce. It has transmitted the route of excellence where the business flow is not challenging as it was earlier. M-commerce evolution could be mentioned as one of the best advancements under the canopy of E-commerce. The impressive mobile commerce model has covered the interest of many entrepreneurs in providing an ideal platform where people can buy anything they want online.
In this blog, we carry you through the development of a M-commerce platform, and the ways how it uplifts your traditional business. Before delving into the topic, let us know what M-commerce is.
What is M-commerce?
M-commerce is a part of online commercial business transaction that takes place through apps or website. M-commerce is a segment of e-commerce that enables enable users to proceed with online shopping platforms without the use of a desktop computer.
Types of M-commerce
1. Mobile Shopping
Users can search for and buy any product or service they want through their smartphones using websites or mobile apps. Mobile shopping enables users to search for products, add to a cart, and complete the purchase using multiple payment methods.
2. Mobile Payments
It is a channel that bridges the gap between the banking sectors and the customers of the respective banks. The payment apps help users to integrate with various banks and ease the financial transaction process of the users.
3. Mobile Ticketing
Mobile ticketing is a platform which is built exclusively to book tickets. There are various types of ticket bookings like transportation ticket, movie ticket, event ticket, and so on.
4. Mobile Coupons and Loyalty Programs
Users receive digital coupons, discounts, and rewards directly on their mobile devices, often tied to specific stores or brands.
5. Delivery Services
It is a platform that helps to deliver product/ service to target customers. The common delivery systems include food delivery, logistics, grocery, on-demand service apps, and so on.
6. Dropshipping
Dropshipping helps to avoid keeping stock/inventories in large volume. The user can make their selling through another company to the buyer. This means you can start an M-commerce store and can sell a diversified range of products without having to meet expenses that cause by a traditional business.
Benefits of M-Commerce
Enhance Customer Experience
Interface With Easy Accessibility
Wider Scope for Marketing
Quick Financial Transactions
Eliminates Expenses of Physical Store
Increased Productivity
Opportunity to Acquire new Customers
Data Analytics
M-Commerce Trends and Best Practices
M-Commerce technologies have smashed the barriers of buying of travelling from your place to buy any product/ service they are looking for. This being a substantial advantage, shoppers can buy anything from anywhere across the globe.
And we would also like to bring some interesting Mcommerce business statistics before your eyes to make you understand the flourishing face of this industry.
79% of mobile users have purchased online using their smartphones in the past 6 months.
According to a recent survey , the total number of above mobile shoppers is about to reach 187 million by 2024.
21% of mobile users will shop in retail shopping apps several times a day whereas 35% of users shop several times a week.
Based on a recent stat, the market size of the m-commerce industry is estimated to reach $520 billion by the end of 2024.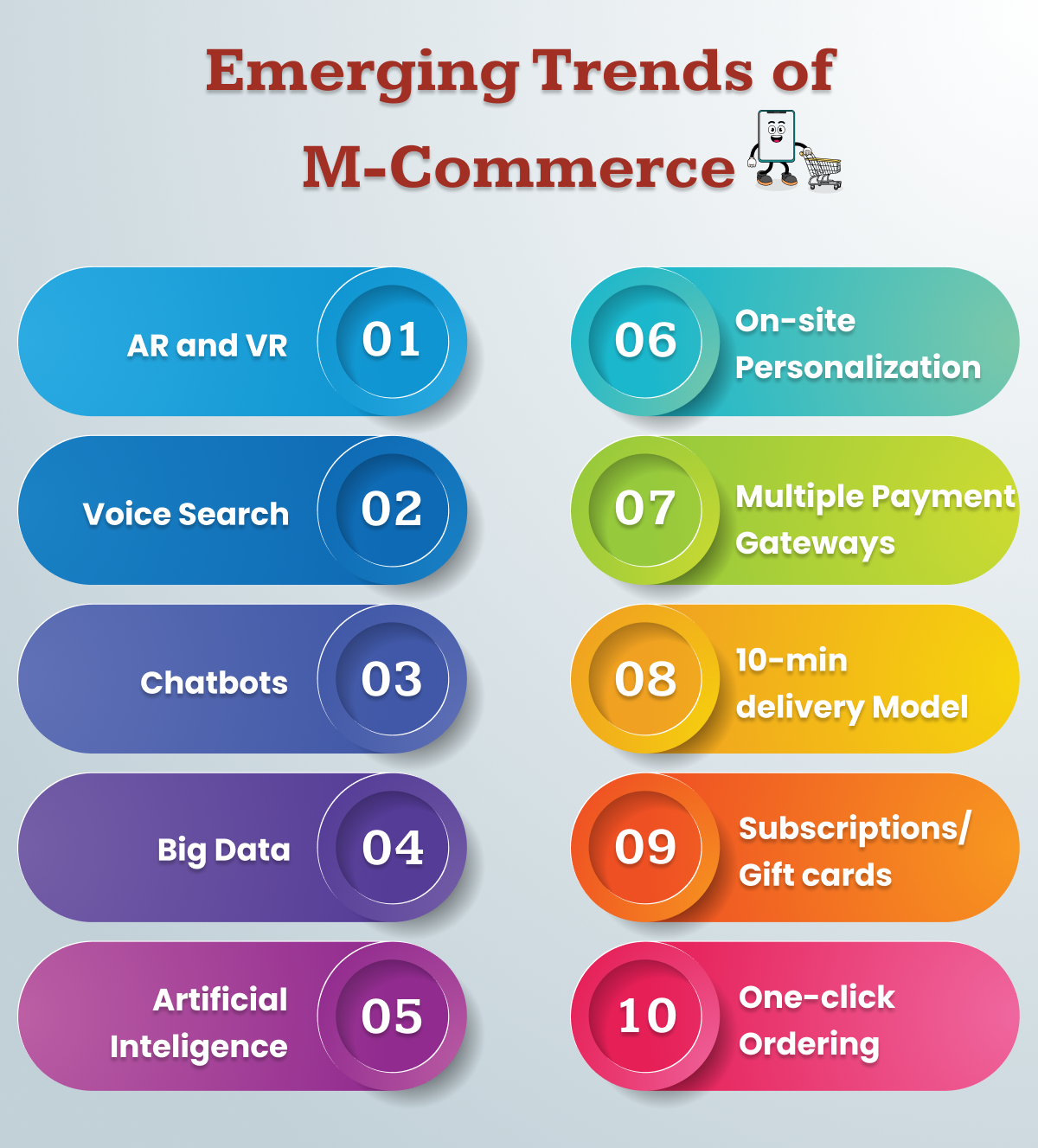 Best Practices to Succeed with Your M-commerce Application
1. Security
The significant aspect to consider while developing any application is security. Therefore, while developing a m-commerce app ensure to follow security practices to promote users for safe communication. Also, ensure that your app is built securely to protect users from data theft, phishing, and payment fraud and theft.
If you are looking for more insights regarding mobile app security, check out our blog that elucidates the types of mobile app security threats and its solution.
2. Capture Omnichannel Shoppers
In recent days, users are provided with more options for shopping online. Apart from downloading mobile apps, they shop online through social media, email, WhatsApp, and YouTube ads. So, while you are developing an M-commerce application, ensure to reach a wide range of audience by promoting your M-commerce app across various channels.
3. Ensure to Provide Reliability
Users will have trust in any business, only if they have trust in any business and see it as a brand instead of a business. So, if you are an emerging business, then as an entrepreneur, you are responsible to build trust to your target customers. So, never compromise on quantitative and qualitative aspects while developing your M-commerce application.
4. User-responsiveness
User experience is a significant aspect of an M-commerce app. If you fail to provide an awesome shopping experience, then there are no reasons for your target users to shop in your app again. Your M-commerce application must provide value for users, and it should provide them with a memorable shopping experience.
Take Away
Staying with updates becomes crucial and inevitable to sustain in the booming digital business network. That being said, iSQUARE, as an ideal web and app development company, enforces eminence in cultivating an impressive revenue stream for you. As a credible software development company, we have made ourselves exposed to knowledge about M-commerce and helped businesses launch an impressive mobile commerce platform for their business. We know M-commerce is the next big thing and is ruling every business industry. So, come off with flying colours in your industry by developing a full-fledged mobile commerce platform. What next? Get in touch with us to set the stage for M-commerce development.