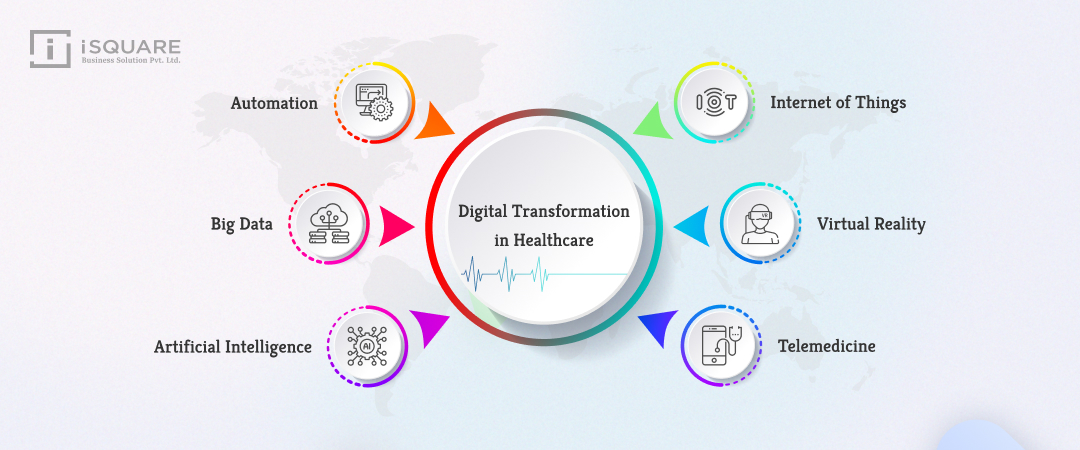 Why is Digital Transformation in Healthcare important? Challenges & their Solutions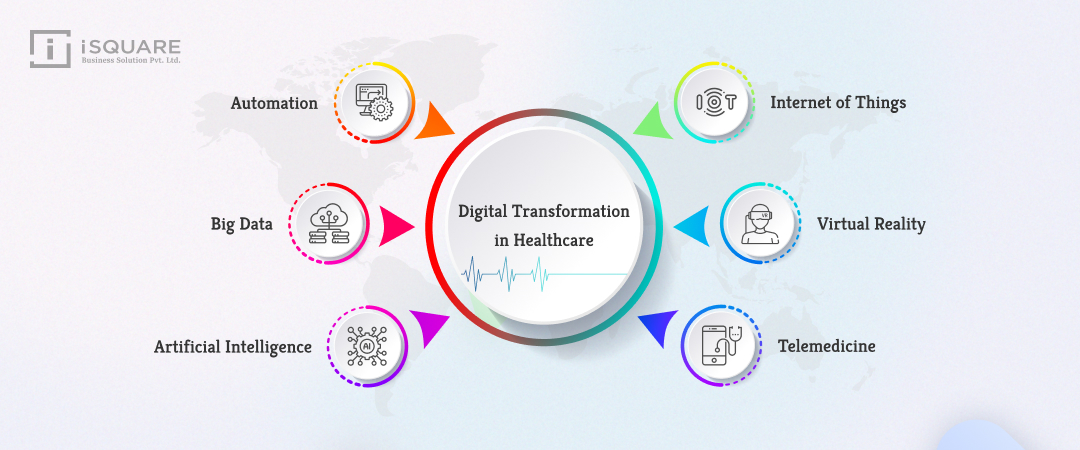 There have been ongoing technological evolutions happening that have constantly pushed humans forward. It started off with the industrial revolution, then came the internet revolution at a slightly faster pace and now we are in the era of digital revolution. Unlike the previous revolutions happening once in a few decades, the present revolution has been happening at a breakneck speed.
Many sectors like manufacturing, engineering started digitizing their business processes wherever there was a possibility. In the service sector Finance and accounting took the lead, through various routes including process automation, data analytics and Artificial Intelligence. One vital industry that has been slowly transforming has been the 'Health care sector'.
As per a recent survey while 15% of other industries became digitized, healthcare and pharmaceutical companies lagged behind with a mere seven percent. This realization hit hard when covid-19 knocked our doorsteps unannounced.
Pandemic and Healthcare
The Wuhan virus brought the entire world machinery to a standstill. It democratic presence was felt across all countries. It also brought forward a glaring truth on how vulnerable even developed nations are, in matters of healthcare. Hospitals were running beyond capacity, under-nourished with emergency relief teams, lack of comprehensive data and insufficient funds to meet contingencies.
Amidst the chaos, a new helping hand emerged through deploying digitalization in crucial areas wherever feasible and acceptable. Using digital tools, medical teams were able to check the status of the vital signs of quarantine patients, monitor their fluctuations in health, and construct comprehensive data for treating patients remotely.
Why is Digitization a crucial indicator for Healthcare in SMB?
According to the World Health Organization – 'Health is the state of complete physical, mental and social well-being and not merely the absence of disease or infirmity". For humans to not merely 'exist' but to 'live' with full dignity, Healthcare is a crucial sector.
In the recent past, research and development in the pharmaceuticals industries gave way for an extended lifeline compared to the shorter lifespan experienced by our predecessors. However, the healthcare sector role became indispensable bringing additional responsibilities. To meet the demands, digitalization of the healthcare system has become a prerequisite and isn't a choice any longer.
Let us understand the drivers
Unhealthy lifestyles –lead to drastic increase in chronic diseases like diabetics, blood pressure among people of all ages.
Deficiency in qualified staff – is a long term constraint as the market is unable to supply medical staff as required. Further, they are exhausted with long working hours leading to stress and reduction in their work quality.
Patients' reliance on staff support – is now the new norm as the support of extended families is not available.
Deal with unplanned events – such as pandemic, earthquakes, flooding
What are the benefits of adopting Digitalization?
Every innovation transforms society and we humans react, adjust, learn and accept reality.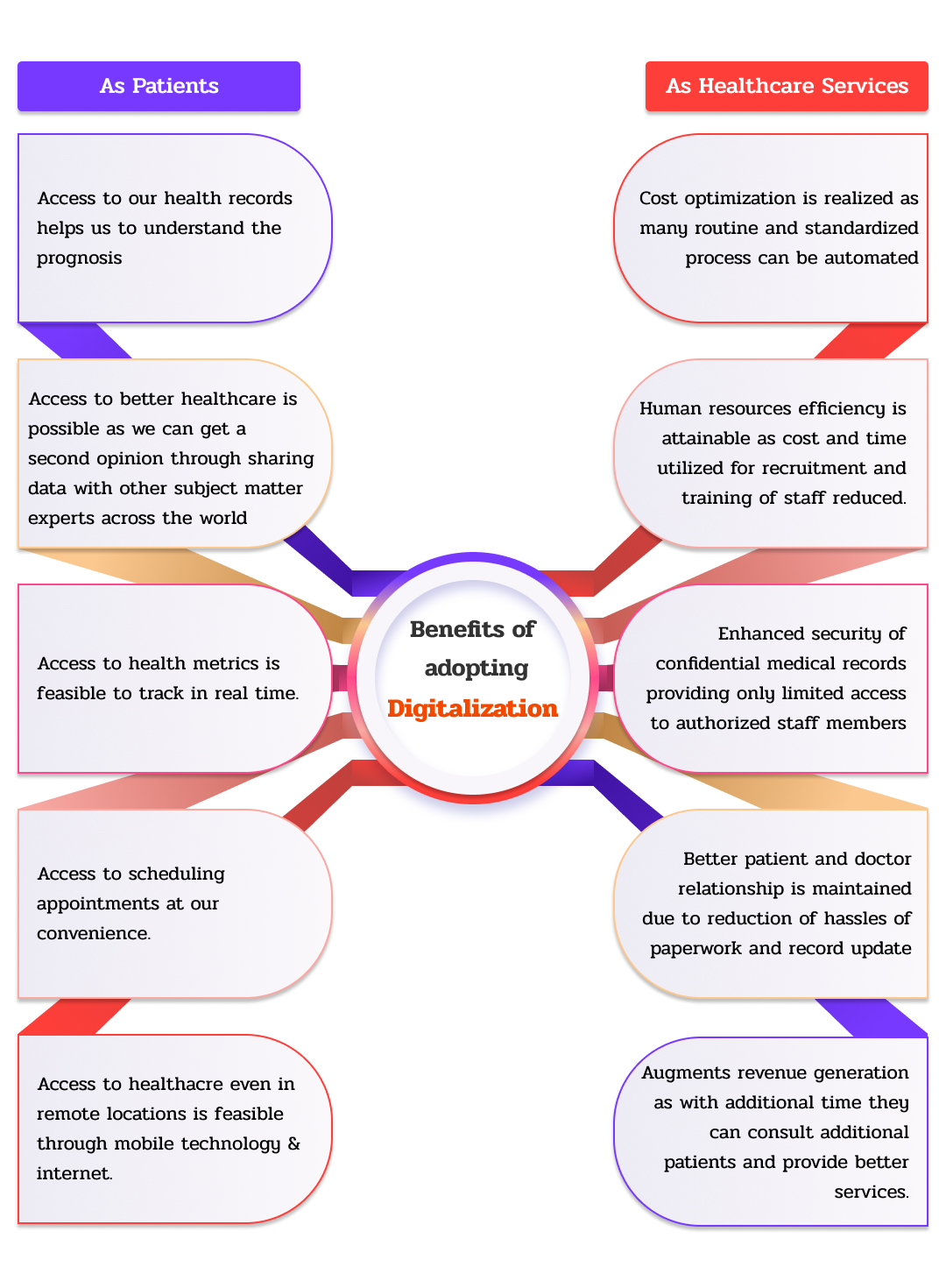 As patients let us see how it transforms us
Access to our health records helps us to understand the prognosis
Access to better healthcare is possible as we can get a second opinion through sharing data with other subject matter experts across the world
Access to health metrics is feasible to track in real time
Access to scheduling appointments at our convenience
Access to healthcare even in remote locations is feasible through mobile technology & internet
As healthcare service provider let us see how it transformed
Cost optimization is realized as many routine and standardized processes can be automated
Human resources efficiency is attainable as cost and time utilized for recruitment and training of staff is reduced. Jobs which require no or less human intervention can be automated with minimum supervision.
Enhanced security of confidential medical records providing only limited access to authorized staff members.
Better patient and doctor relationship is maintained due to reduction of hassles of paperwork and record update.
Augments revenue generation as with additional time they can consult additional patients and provide better services.
What are the challenges faced for adopting Digitalization?
Change is a constant and societies' adaptation is inevitable. Any change is not given a grand welcome before it earns its prominence. So, digitalization has its own share of challenges before it becomes an active participant in the healthcare sector.
Let us look at some of the basic challenges it faces
Lack of cooperation from the staff members
Whenever a new technology is introduced the first resistance comes from the staff members. Either it is due to fear of losing their jobs or moving away from their comfort zone. Educating them the benefits of digitalization and how it is going to impact their work is the work of both the service provider and management team.
They need to build the rapport and reassure them of job security by allowing them to be part of the team to provide constructive feedback and places of contention during the automation processes.
Digitalization of personnel records is both a challenging and sensitive job. Any form of breach in the security opens space for tarnishing the reputation of the healthcare provider, firm providing the software and of course personnel data of the individual concerned.
A full time security of data needs to be ensured providing controlled hierarchical access to staff members, prevention of any form of cyber-attacks, updating the software as required etc.
Small, medium healthcare providers are always plagued with the need for funds. With digitalization needing additional operating costs they are content with the present way of functioning of their healthcare institution. Some want an early ROI for the funds diverted. Therefore, innumerable healthcare institutes fail to see the benefits in the long run and prefer the present set-up.
A good service provider will be able to convince the dire need for scaling, early gains and better infrastructure.
About iSQUARE in "Digital Transformation in Healthcare"
Staying relevant in a highly competitive sector like healthcare needs evolving to the external scenarios. This is feasible only through the digitalization of your processes and offering convenience, efficiency to your customers.
We at iSQUARE provide each customer with custom solutions to fit their needs. Be it Hospital/Lab management systems, ERPs like Hearing Aid ERP Solution , our expert team has extensive domain knowledge and experience to design, develop the right solution. This will ultimately lead to acceleration of your growth and cost optimization.
Please reach out to us, to learn more about our capabilities and how we can partner your growth and sustainability.
FAQ
How is digital transformation changing the healthcare industry?

More healthcare providers and customers are adopting telemedicine, electronic health records, and clinical support systems.
What are the key challenges in healthcare in adopting digital solutions?

To cater to evolving needs of your customers and to stay ahead of your competition, adopting technology is the only option.
What are the latest digital healthcare trends?

Electronic health records (EHR), Interoperability, Telemedicine, AI-based predictive healthcare­­.